Permanent Secretary of Suriname's Ministry of Sport and Youth Affairs, Michael Watson, was optimistic of the visitors bettering host Guyana in the four disciplines of the first leg of the annual Inter Guiana Games (IGG) when he spoke to the media yesterday. "They arrived safely and I see no stress on their faces they look very relaxed and as always we are prepared for good competition" said Watson yesterday, shortly after the visitors arrived at the Ocean View International Hotel. "We prepared them for a tough competition and we expect the same from Guyana but our expectations are very high, however,  the best team and the team with the best strategies will win and we are hoping we will be that team" Watson declared.
Director of Sport, Neil Kumar was also at the hotel to meet the athletes and officials stated that "I am very happy to see the Suriname delegation here, I see they have a full contingent and we are all geared up for the Games tomorrow" (today).
The aim of the games is to create possibilities for youths to come together and compete in different sport disciplines, focusing on better sport results and better understanding of each other's culture.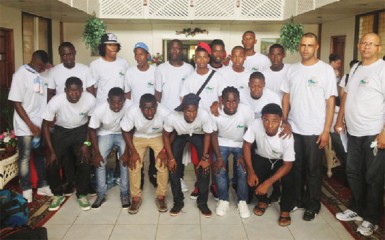 The first leg of the Games will see Guyana's under-19 sportsmen and women tackling their Surinamese counterparts in football, cycling, chess and table-tennis.
This year's Opening Ceremony is set for the Cliff Anderson Sports Hall (CASH) from 10:00hrs today. However, competition commences two hours earlier in the National Park with the cycling team time trials.
For the time trials, the males will race against the clock for 10km while the females will race for 6km.
Following the opening proceedings, table-tennis will serve off at midday simultaneously with chess at the same venue.  The cycling road race will pedal off at Nismes at 14:00hrs. As is customary the males will ride 60km (36 miles) for the road race starting at Nismes, proceed to Vergenoegen and return to the starting line for the finish.
The female 40km race will begin at Nismes, continue to Leonora and return to the point of origin for the finish.
Football action kicks off one hour later at the Guyana Police Sports Club Ground.  The closing ceremony is set for CASH at 19:00hrs.
Around the Web