Score's Even looked like just another horse at the third annual Digicel Horse Race Classic yesterday.
Until the final two furlongs that is.
That is when the thoroughbred, ridden by champion jockey Randolph Richmond, pinned back his ears and kicked clear to win the feature 'B' and Lower seven furlongs event, beating one of the deepest fields by almost half a furlong.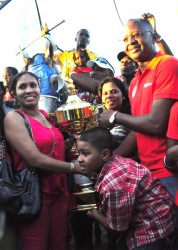 Score's Even stormed out of post number one and bided his time while the highly regarded Swing Easy set a blistering pace on the muddy Kennard Memorial Turf Club track.
The move came in a flash.
Swing Easy had the lead, Got To Go was lurking and jockey Badrie was waiting for the right moment to go.
The Classic was going according to plan.
Around the first turn, Richmond angled the champion race horse to the outside of the pace setter and the horses were neck-and-neck with five furlongs to go.
And then the race started to unfold.
Score's Even went clear, his lead building with every powerful stride and then it happened.
With one breathtaking surge over the final two furlongs, Score's Even, prepared by homebred trainer D.Deoroop seemingly never tired, changed gears again finishing almost a half furlong ahead of Swing Easy to claim the $2.5M first prize.
Got To Go, owned by the Jumbo Jet Stables was guided by Badrie to a third place finish, while the Message finished fourth tiring in the stretch and never getting into contention under Paul Delph.
"I believed in this horse from the first time I saw him," said Deoroop of the Kentucky, USA born Score Even.
"His father 'Even The Score' was a champion in the USA and I know he has what it takes to win races here even though he is not accustomed to racing in these conditions, its very thrilling to see him win."
In the co-feature, three-year-old event for horses bred and born in Guyana and the West Indies, Princess Alicia controlled the race from the gate and never relinquished the lead.
The first prize of $1.3M went to the Jumbo Jet Stables, owner of Princess Alicia.
Monsoon of the Crawford Stables placed second and carted off $650,000 while Its My Turn and Silent Night of the Chattergoon and Shariff Racing Stables pocketed $325,000 and $162,000 for finishing third and fourth respectively.
Meanwhile, other winners for one of Guyana's premier horse racing events which rewarded the owners with a total of more than $12m in prize money included Treacle (G1 and Lower) of Habibula Stables, I Want Revenge (J2 and Lower) of Jumbo Jet Stables, Unsettled (Two-Year Old Guyana & West Indian Bred) of I.Bacchus Stables and Who's On My Case (D3 and Lower) also of Jumbo Jet Stables.
Royal Intention (J3 & Lower) of Ketwaroo Stables and Easy To Win (I & Lower) ridden also by Richmond of Habibula Stables were also in the winner's row.
There were special discounts and giveaways by the telecommunications company.
Entertainment to the thousands of turfites was provided by Slingerz Family.
Around the Web