CHESTER-LE-STREET, England, (Reuters) – Australia, with victory in sight, collapsed from 120 for one to 224 all out in a crazy post-tea spell as England won the fourth test by 74 runs to go 3-0 up in the five-match Ashes series yesterday.
A pugnacious innings from David Warner (71) put Australia in complete control but Tim Bresnan produced a peach of a delivery to remove the opener and that seemed to sap all the confidence out of the tourists as they lost eight wickets for 56 runs.
Stuart Broad (6-50) picked up his second five-wicket haul of the match with another dynamic burst of fast bowling as he and Bresnan (2-36) ripped the heart out of the Australian batting.
"That was amazing," Broad told Sky Sports. "Australia gave us nothing in that middle session of the day and we had to regroup at tea.
"The atmosphere here kept us going and at the end we prayed for a bit of sunshine and it went our way. I found a nice rhythm at the top end of the ground and just tried to be aggressive."
A thrilling game, in which the Durham wicket produced an even contest between bat and ball, ended in the gloom at 1940 local time (1840 GMT) after the umpires had fidgeted around with their light meters amid boos from the crowd.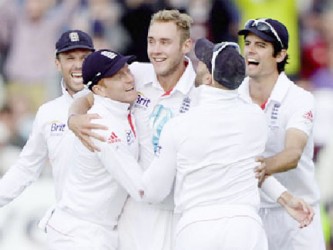 With one wicket left to fall, Broad came back on to seal England's third straight win in an Ashes series by removing Peter Siddle for 23.
England's triumphant players gathered together in a huddle in the middle and danced up and down in joyous celebration.
It all looked so different a few hours earlier as Warner and first-innings centurion Chris Rogers put together an opening stand of 109.
CRUNCHING STROKES
Rogers played the tortoise to Warner's hare as the two left-handers, chasing a victory target of 299, carried the attack to England.
Warner hit several crunching strokes as he scored at almost twice the rate of his partner.
Rogers had two lucky escapes via the Decision Review System and was also dropped by Graeme Swann at second slip before the spinner finally had him caught low at first slip by Jonathan Trott for 49.
Warner, who welcomed Swann to the attack by lofting him over wide mid-on for six, continued to play with freedom when he was joined by Usman Khawaja.
Khawaja was trapped lbw by Swann for 21 before England captured the key wicket of Warner when he edged a brutish, lifting ball from Bresnan to wicketkeeper Matt Prior.
Broad then ran through the Australian order, removing captain Michael Clarke for 21, Steve Smith for two, Brad Haddin for four, Ryan Harris for 11 and Nathan Lyon for eight.
With play finishing later than normal following a 70-minute rain interruption earlier in the day, England briefly took the quicker bowlers off as the light deteriorated.
Suddenly, out of nowhere, the gloom gave way to bright sunshine and that was the signal for Broad to deliver the coup de grace by having Siddle caught by Anderson at mid-off.
Earlier, the home team were bowled out for 330 in their second innings with in-form Ian Bell hitting 113 and Australia paceman Ryan Harris taking seven wickets for the first time in his test career.
Scoreboard
England first innings 238 (A.Cook 51, N.Lyon 4-42)
Second innings
A.Cook c Haddin b Harris                                  22
J.Root b Harris                                                        2
J.Trott c Haddin b Harris                                  23
K.Pietersen c Rogers b Lyon                           44
I.Bell b Harris                                                      113
J.Bairstow c Haddin b Lyon                            28
T.Bresnan c & b Harris                                       45
M.Prior b Harris                                                     0
S.Broad c Smith b Harris                                  13
G.Swann not out                                                  30
J.Anderson c Haddin b Lyon                          0
Extras (lb-5, w-1, b-4)                                      10
Total (all out)                                                  330
Fall of wickets: 1-17 2-42 3-49 4-155 5-221 6-251, 7-251, 8-275 9-317
Bowling: Harris 28-2-117-7, Bird 20.3-6-67-0, Watson 6.3-1-22-0, Siddle 17-4-59-0 (w-1), Lyon 22.1-3-55-3, Smith 1-0-1-0
Australia first innings 270 (C.Rogers 110, S.Watson 68, S.Broad 5-71)
Second innings
C.Rogers c Trott b Swann                                   49
D.Warner c Prior b Bresnan                              71
U.Khawaja lbw b Swann                                     21
M.Clarke b Broad                                                  21
S.Smith b Broad                                                      2
S.Watson lbw b Bresnan                                      2
B.Haddin lbw b Broad                                          4
P.Siddle c Anderson b Broad                          23
R.Harris lbw b Broad                                          11
N.Lyon b Broad                                                      8
J.Bird not out                                                          1
Extras (b-6, lb-5)                                               11
Total (all out)                                                   224 
Fall of wickets: 1-109 2-147 3-168 4-174 5-175 6-179 7-181 8-199 9-211
Bowling: Anderson 16-1-73-0, Broad 18.3-3-50-6, Bresnan 13-2-36-2, Swann 18-6-53-2, Root 3-2-1-0
Around the Web