Four of the six amateur boxers returned from Trinidad and Tobago on Sunday with trophies  following victories at last weekend's Youth Invitational tournament at the Cosmic Gym in Marabella.
Junior Henry of Forgotten Youth Foundation Gym (flyweight), Shaka Moore of Essequibo Boxing Gym (light bantamweight), Quincy Boyce of the Guyana Defence Force Gym (featherweight) and Dewani Lampkin of the Forgotten Youth Foundation (lightweight) were victorious while Travis Hubbard of Harpy Eagles Gym (bantamweight)and Travis Fraser of Tiger Eye Gym (light middleweight) allegedly lost by head scratching decisions.
During a press briefing at the Ministry of Sport, president of the Guyana Boxing Association (GBA), Steve Ninvalle, praised the winners stating that he was "happy that the boxers returned with accolades and were outstanding ambassadors for Guyana. I congratulate you all."
Ninvalle also encouraged them to "stay focused and prepared as bigger things are in store." Coach Clifton Moore said that Hubbard and Fraser suffered "highly questionable losses," in their respective bouts.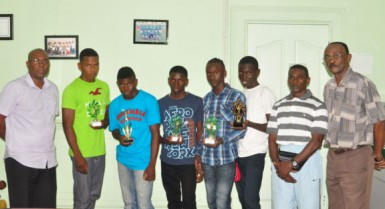 When quizzed on whether he had lodged a protest, Moore told the media at yesterday's briefing that the thought of a protest had crossed his mind but that he decided against it since the action would have cost the GBA $US500 and that amount of money was not available at that point in time.
Moore also stated that kudos must be extended to the six pugilists because their performances were better than ever.
"These boxers fought better than they ever fought here in Guyana and I must say they did us proud. I am very pleased with their performances, if they were more competent judges we would have had six out of six wins," Moore declared. The amateur boxers were chosen after specific divisions were requested by the Trinidad and Tobago Boxing Association.
Vice President of the GBA, Eustace Cuffy was the manager of the team.
Around the Web