The Guyana national U11 players are proving to be the success story of the eighth annual Pre-Cadet and Cadet table tennis championships at the Cliff Anderson Sports Hall (CASH).
Following their gold medal in the team event, Guyana's Neveah Clarkston and Salanas Jackman yesterday combined to win the girls U11 doubles title defeating Idelsa Baez of the Dominican Republic and Aruba's Mikayla Mathilda  11-9, 11-5, 11-6.
They were joined by Nyron Bissu and Terrence Rausch who won the boys' U11 doubles title.
In the boys U11 semi-finals Tyriq Saunders and Kaysan Ninvalle defeated the Bajan duo of Ramon Maxwell and Ronico Sealy 11-6, 11-5, 11-7, 3-11 and 5-11 to set up a final battle with Rausch and Bissu who prevailed 3-0.
The Dominican Republic which did not participate in the team events and Trinidad and Tobago were the other countries to win medals as the doubles competition climaxed last night.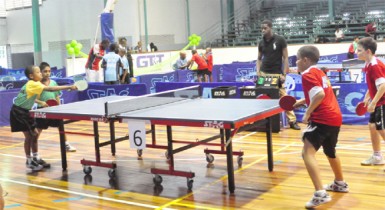 The Dominican Republic pair of Jesus Lozano and Baez defeated Rausch and Clarkston 12-10, 11-5, 11-5 in the final of the U11 mixed doubles competition.
Trinidad won the U13 mixed doubles title with Joshua Maxwell and Jasher De Gannes defeating Jakeem Welch and Shanekah Johnson 11-7, 11-8, 11-13, 11-7.
They also won the boys U13 doubles when Joshua Maxwell and Jakeem Welch defeated Guyana's Jeremy Singh and Miguel Wong 11-3, 7-11, 11-8, 8-11, 12-10.
Wong and Singh led 7-1 and 10 seven in the deciding fifth game before the Trinidadians reeled off the next five points to clinch the title.
The Trinidadians made it three titles when De Gannes and Johnson defeated Ray J Thomas and Chelsea Fong 11-1, 11-7, 11-5.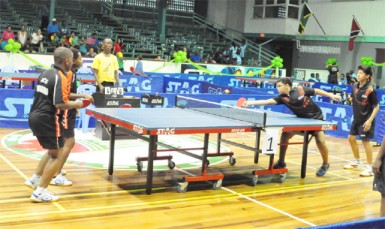 Around the Web