The Guyana Amateur Swimming Association (GASA) has named a 20-member team including three officials to participate in the upcoming 19th Goodwill Swimming Championships in Barbados this weekend.
The team was selected following trials held last month at the National Aquatic Centre, Liliendaal.
The team, which will be managed by Ivan Persaud, includes Accalia Khan, Soroya Simmons, Jamila Sanmoogan, Athena Gaskin, Hannibal Gaskin and Omar Adams.
The team has been training two times a day over the past month from Mondays to Saturdays and the sessions at the 50m pool will conclude today.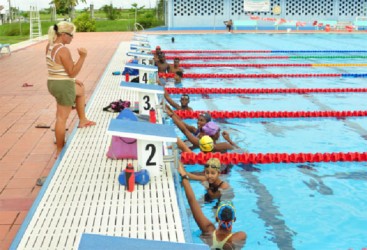 The championships will take place at the Barbados Aquatic Centre from August 16-18.
Persaud stated that the training sessions were all successful and he pointed out that the swimmers have shown improvement during the sessions. He also said that the players are injury free adding that most of the athletes are expected to better their times.
According to Persaud the swimmers have been under the watchful eyes of Cuban Coach, Isabella Couso Fals, Sean Baksh and Shyka Gonsalves.
The more experienced Goodwill swimmers Khan, Simmons, Sanmoogan, the Gaskins and Adams are expected to medal at the championships while juniors Leon Seaton and Nathon Hackett are also expected to do well. The team captains are Gaskin and Adams.
Last year at the championships held at the National Aquatic Centre, Guyana finished fourth with 514 points with Suriname retaining the title with 1507 points. In second place was Trinidad and Tobago (1443.5 points); this year's host country Barbados was third with a combined total of 898.5 points.
The national team is expected to pay a courtesy call on the Minister of Youth, Sports and Culture, Dr. Frank Anthony and the Director of Sport Neil Kumar this afternoon at 3pm.
The following are the swimmers and their respective categories:
8 years and under: Alika Persaud (girl); Leon Seaton, Lajaun Munroe & Raekwon Noel (boys).
11-12: Nkosi Beaton and Nathon Hackett (boys).
13-14: Accalia Khan and Nikita Fiedtkou (girls); Phillip De Nobrega and Jamaal Skeete (boys).
15-17: Soroya Simmons, Jamila Sanmoogan and Athena Gaskin (girls); Hannibal Gaskin, Omar Adams, Omari Dunn and Derrick Ramsaroop (boys).
Officials:    Coaches: Isabel Couso Fals and Sean Baksh.
Coach/chaperone: Shyka Gonsalves
Team manager: Ivan Persaud
Around the Web