CINCINNATI,  (Reuters) – For many seasons Rafa Nadal has arrived at the tail end of the tennis schedule with his knees creaking like two rusty gates and nursing the aches and pains that are payment for his action-packed style.
But the Spaniard had no complaints as he glided into a news conference  yesterday ahead of his opening-round match at the Western and Southern Open to discuss what has been a perfect start to the North American hardcourt campaign.
Nadal has already counted two hardcourt wins among his eight titles this season with victories at Indian Wells in March and in Montreal on Sunday.
With the exception of grass courts and an opening-round slip up at Wimbledon, the Spaniard has impressed on all surfaces this season having added to his grand slam collection at the French Open and capturing four of six Masters Series events.
Playing in his first tournament since a shock exit at the All-England Club, Nadal returned to action in Montreal last week and showed he was back to near his best and that his ailing body was ready for the grueling demands of the North American hardcourt campaign.
Less than 24 hours after Saturday's hard-fought, semi-final win over world number one Novak Djokovic, Nadal, playing with all the conviction and freedom of a man near the peak of his powers, crushed Milos Raonic in front of the Canadian's home crowd to claim his 25th career Masters title.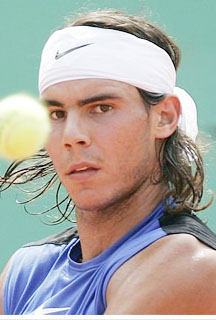 With eight wins from 11 events, there is speculation that Nadal has finally struck a balance between tournaments and time off that has always proven elusive for the top players.
But the muscular Majorcan laughed off that suggestion saying it was virtually impossible to come up with a foolproof plan simply due to the nature of the sport.
"I will say in a sport like tennis, my feeling is everybody who says, 'I find the perfect schedule,' everybody's lying," Nadal told reporters. "Because in tennis, when you prepare your schedule, you don't know if you will play one match, two, three, four, or five. You can lose in the first round, so the schedule is changing a lot.
"You cannot predict which result you're going to have in the tournament.
"I don't want to be too smart and say I prepared the schedule great and that's why I arrived to Montreal in very good shape. It's not true."
Around the Web