Director of Sport Neil Kumar last night suggested that a $50 million dollar table tennis academy was in the making in the foreseeable future.
Kumar made the disclosure at the closing ceremony of the eighth annual Pre-Cadet and Cadet table tennis championships at the Cliff Anderson Sports Hall.
Kumar lauded the GTTA for what he regarded as a "highly successful" tournament and praised the parents who supported their kids by coming to training, to the hotel and the Sports Hall to show support for the young players. The support shown led Kumar to call on the parents to back their kids and continue to be "a source of inspiration."
He compared cricket to tennis by telling the youths that their innings starts when they concentrate on becoming National, Regional and International Champions adding that with the continued support of the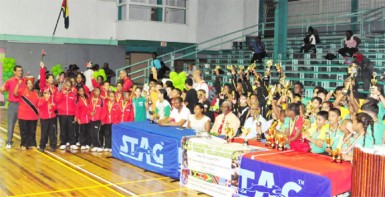 parents, he knows that there are potential world champions sitting in the venue.
He also thanked the various sponsors and the media for their support throughout the tournament.
Also speaking last night was Caribbean Regional Table Tennis Federation President, Juan Villa said last night that he was pleased with the level of tennis shown and adding that he hoped that the players on show would in the future do the Caribbean proud.
Apart from the players, organisers, coaches and officials of the regional and local table tennis bodies, also present at the brief function were distinguished guests including President of the Guyana Table Tennis Association (GTTA), Godfrey Munroe, Kumar, Villa, GT&T Brand Manager Nicola Duggan and Administrator of the National Sports Commission, Gervy Harry. In his speech Munroe expressed his appreciation for the successful outcome of the tournament, noting that the young players were the future of table tennis in the Caribbean and encouraging them to "work hard and play harder."
Villa, who through his interpreter, echoed Munroe's plea to the young players about their responsibility to becoming the Caribbean's future players and congratulated the respective countries for their participation and the level of tennis that was shown. Villa also thanked the GTTA for hosting such a successful tournament.
Around the Web