KARACHI, (Reuters) – Disgraced Pakistan pace bowler Mohammad Asif has finally said "sorry" and admitted he was guilty of spot fixing during Pakistan's ill-fated tour to England in 2010.
The 30-year-old, who kept denying any wrongdoing even after serving a jail term in England for corruption and was slapped with a minimum five-year ban from the sport by the International Cricket Council (ICC), came clean yesterday.
"Today I admit what I did was wrong and I am ashamed for bringing disgrace to my family and my country. I apologise to the nation and the Pakistan Cricket Board," Asif told reporters.
Asif along with team mates Salman Butt and Mohammad Amir were found guilty of corruption by a British criminal court and were also banned from cricket by the ICC for spot fixing during a 2010 Lord's test between Pakistan and England.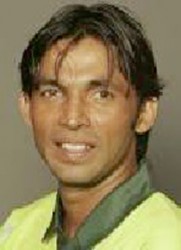 While Amir and Butt had already admitted their involvement in the saga and agreed to undergo rehabilitation programmes, Asif chose Pakistan's Independence Day to make his confession.
"I feel sorry for what has happened. I don't know what is going to happen now that I have admitted everything. But my conscience is clear now," Asif said.
"I have gone through a lot in the last few years but I brought it upon myself and I deserved the punishment I got."
Asif, who captured 106 wickets in 23 tests before his career derailed, said he wanted to make sure the next generation learnt from his mistakes.
"I want to play a role now in at least warning the younger players off the pitfalls of corruption and fixing," he said. "I want to tell them don't step into the path of corruption."
Around the Web