NORTH SOUND, Antigua, CMC- Talented Barbadian all-rounder Carlos Brathwaite says he is almost 100 percent fit after recovering from a heart-breaking knee injury which put him out of action for several months.
The 25- year- old seamer and powerful right-handed batsman has his sights set on impressing again and using the Limacol CPL as the springboard. "I think I am 95 to 100 per cent fit. I had surgery in February and rehab went well and I was out for three months or so," Brathwaite said. "Since then, I've made my return to the local circuit playing for the University of West Indies, playing three or four games in the three-day First Division and the T20 competition."
In the Limacol CPL draft back in June, Brathwaite was selected alongside the likes of Rayad Emrit, Shannon Gabriel, Devendra Bishoo, Kirk Edwards, Dwayne Smith and Jason Holder, all of whom have already represented West Indies.
Tridents is led by global T20 superstar Kieron Pollard and includes overseas players Shoaib Malik, Shakib al Hasan and Umar Akmal.
Coming off injury, Brathwaite said performing again would require a huge mental effort on his part, especially since he was lining up alongside some of the world's best players in the Limacol CPL.
"Unfortunately I had two injuries in two years coming off a good Caribbean T20 tournament but at the end of the day it is easy to look back and be depressed but it is better to look forward and press on," he explained.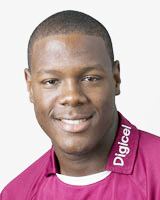 "At the end of the day I still have things to go out there and do, I have goals in mind and it is important now for me to put those things behind me and press on towards my goals."
Brathwaite missed out on selection as Tridents won their first four games to romp into the semi-finals of the inaugural Limacol CPL. His debut game on Sunday coincided with the Tridents' first loss, a 27-run defeat to Guyana Amazon Warriors.
His two overs cost 18 runs and he blasted 18 from 14 balls as Tridents slipped towards defeat in pursuit of 150 for victory.
"It's always good to share dressing rooms and share knowledge with talented all-rounders," said Brathwaite who only two years ago was fulfilling his boyhood dreams of playing international cricket when he made his limited overs debut for West Indies against Bangladesh in Dhaka.
"It is a case where you have seven or eight guys who enjoy each other's company, mixing at the same time with proven international stars as well," Brathwaite pointed out".
The Limacol CPL bowled off in Barbados on 30th July with a spectacular opening ceremony at Kensington Oval, and will wind up at Queen's Park Oval in Trinidad and Tobago, on 24 August with the final match.
Around the Web