MOSCOW, Russia, CMC- Five Athletes from the English Speaking Caribbean will contest finals on today's 6th day of the IAAF World Athletics Championships.
Jamaicans Kimberly Williams and Nickiesha Wilson, Trinidad & Tobago's Jehue Gordon, along with Bahmian pair of Ryan Ingraham and Donald Thomas, are those down for the medal rounds.
Gordon will contest the men's 400m hurdles final while Wilson will be in the women's event.
Gordon said the medals are for anybody "Nobody's name is written on the medal as yet, it's anybody's own and I will give it my best."
Wilson said "anything can happen in a race and I am going there with the mentality that I'm going for a medal"
Williams, who qualified for today's triple jump final by jumping 14.36 on her second attempt on Tuesday, said she wants to get on the podium. "I don't want to come here and just compete, I want to challenge for a medal, do all my best, I want to go out and put out my best effort," she said.
"This is my first World Championships final and I just need to continue to show improvement," Williams added.
In the other final, set for the 11am (Eastern Caribbean time), Ingraham and Thomas, both Bahamians, will contest the men's high jump final.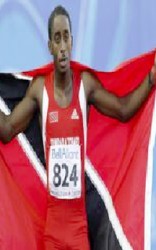 Thomas, who said he just wants to go out there and represent his country well, believes "once I go out there and perform to the best of my ability, everything should be okay".
Also today, Shelly-Ann Fraser-Pryce will start her quest for the women's sprint double title.
She will run in the 4th heat along with Trinidad & Tobago Kai Selvon.
Kineke Alexander of St. Vincent and The Grenadines, Jamaicans Anneisha McLaughlin and Patricia Hall, Bahamians Anthonique Strachan, Nivea Smith and Shaunae Miller and Karene King of British Virgin Islands are the other Caribbean women in the 200m.
Jamaica's Natoya Goule will make her debut at this level, also in the morning session.
Meanwhile, onyesterday's scaled down day, Jamaica's long jumper Demar Forbes, the only Caribbean athlete in action, booked his final round ticket.
Forbes soared 7.96 metres on his final attempt of Wednesday's qualifying round to move into seventh place and earn his spot in the final at Luzhniki Stadium.
Forbes, who graduated from LSU in May with his degree in sport administration, will enter his first world level tomorrow at 7:30pm (11:30 am Eastern Caribbean time).
Forbes had a very successful season having won the NCAA Outdoor title in 2013.
Around the Web