The inaugural Roraima Bikers Club (RBC) and Bryden and Fernandes 10-race cycle event which was postponed last month due to inclement weather will now pedal off on Sunday at the Seawall Bandstand.
In excess of $200,000 has been budgeted for the event which is scheduled to roll off at 10:00hrs. The  winner of the feature Bryden and Fernandes Classic 30-lap race will pocket $10,000.
National riders Alanzo Greaves, Robin Persaud, Orville Hinds, Marlon 'Fishy' Williams, Warren '40' McKay, Paul DeNobrega and others  will be aiming for top honours in that event.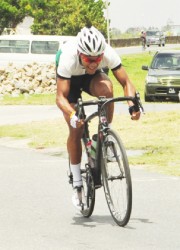 Other races carded for Sunday include the 12-14 Juveniles (three laps), Junior/Category Four (five laps), Category 1-3 (five laps), Veteran Over-50 (five laps), Veteran Under-50 (five laps), Team Time Trial (four laps), Win and Out (eight laps), Mountain Bike Open (five laps) and Female Open (five laps).
The top three finishers in these races will collect cash awards while the first six finishers in the Bryden and Fernandes Classic will be rewarded with cash prizes.
Early last month, the RBC, in partnership with the National Milling Company (Namilco), attracted a massive crowd for the 10th annual Caricom Day event, held around the Seawall Bandstand for the first time, and Allen is confident Sunday's activity will be just as successful.
RBC will be collaborating for the first time with Bryden and Fernandes, a subsidiary of the John Fernandes Group of Companies.
Around the Web