Grenadian athletes Kenisha Pascal and Reon Radix arrived in Guyana Wednesday morning prepared to battle for victory in the fourth edition of the Boyce/Jefford Track and Field Classic set for this weekend.
The athletes, along with their coach Kwame Hypolite, are here to participate in what has now become a regional meet. Pascal, a seasoned campaigner will compete in the International Women's 5,000m and 3,000m races while Radix has been registered for the 1,500 and 5,000m events at the mega meet. The Classic will be held at two venues.
At a media briefing, Pascal said she is here to perform and will leave no stone unturned in her pursuit of a top three finish in the International Women's 1500m. The race carries prizes of US$250, US$150 and US$100 for the top three finishers.
"I am hoping to perform at the best of my ability. Hopefully, I can get in the top three and return a better time than last year," Pascal said. She also said she considers Alika Morgan and Tonya Nero, from Trinidad and Tobago, her main rivals in the race.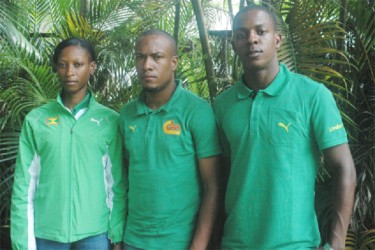 Along with Pascal, Morgan and Nero, the International Women's 1500m will feature an impressive field of women including triple Carifta Games gold medallist and Carifta Games bronze medallist Andrea Foster, Jevina Straker and Jenella Jonas among others.
Sixteen women have registered for this marquee event in the Boyce & Jefford Classic which will also feature a guest appearance by junior sensation from Linden, Cassey George among her senior counterparts for the first time since her Carifta gold medal win.
Meanwhile, Pascal's teammate, Radix, will be competing in the Men's 1500m and 5,000m races. Radix said that he wants to be tested against Guyana's best to gauge his standard.
"It will be my first international competition for quite some time, since Carifta in 2008 to be exact.
I am looking to better my times and matching strides with international competition," he said.
Radix will be up against Guyana and the Caribbean's leading distance athlete, Cleveland Forde in both events as well Dennis Horatio from Police and Jamaul Chisholm from the Guyana Defence Force.
Competitors from Trinidad and Tobago and Suriname are expected to arrive today for the meet that gets underway tomorrow. Caribbean Airlines had partly sponsored the airfare for the regional contingents to travel to compete in Guyana.
The Boyce & Jefford Track and Field Classic IV will be held at the Police Sports Club Ground, Eve Leary tomorrow from 12noon. The heats and eight finals will be held on Sunday at the Mackenzie Sports Club Ground, Linden from 2pm.
Around the Web