ST JOHN'S, Antigua, CMC– Three of the world's leading Twenty20 players are to join the Limacol Caribbean Premier League (LCPL) replacing injured players and those leaving because of other professional commitments.
They are the Sri Lanka duo of Mahela Jayawardene and Lasith Malinga, along with former Pakistan all-rounder Azhar Mahmood, organizers announced on Thursday.
Batsman Jayawardene, who sits in tenth place in the list of all-time run-scorers in Twenty20 cricket, is stepping in for the Trinidad & Tobago Red Steel in place of South African Davy Jacobs, ruled out with an injury to his right ankle.
"I've always enjoyed playing cricket in the Caribbean, so I am really looking forward to this short stint with T & T Red Steel,"said Jayawardene who has a total of 3876 runs in the shortest form of the game at an average of 29.36.
"We have got a really talented young team and I hope I can help us first get into the semi-finals and then go on and challenge for the title.  It should be a really entertaining and exciting finale to the tournament". Fast bowler Malinga, second in the list of all-time wicket-takers in the shortest form of the game, replaces Pakistan Twenty20 captain Mohammad Hafeez for the Guyana Amazon Warriors, with Hafeez set to join his country's upcoming Pakistan tour of Zimbabwe.
"Playing cricket in the West Indies is always fun and I am really looking forward to playing in the final stages of the inaugural Limacol CPL," said Malinga.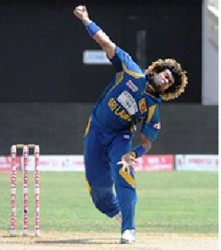 "I've been following the progress of the tournament back home and I am very happy to be joining the Guyana Amazon Warriors."
Like Hafeez, Umar Akmal of the Barbados Tridents is also heading to Zimbabwe with his national team, which has created the opportunity for Mahmood, currently fourth in that list of all-time Twenty20 wicket-takers.
Mahmood last played for Pakistan in 2007 and since then has become one of the most highly-regarded all-rounders in Twenty20 history.
In another change, Orlando Peters has also been confirmed as the replacement for South Africa all-rounder Justin Kemp for the Antigua Hawksbills with Kemp side lined with an injury to his right gluteal muscle.
The 25 year-old Orlando Peters made his Limacol CPL debut for the Antigua Hawksbills on Tuesday and made a crucial 31 from 22 balls to help steer the home side to victory over the Barbados Tridents in a low-scoring thriller. The Tridents' next match is tomorrow against Jamaica Tallawahs in Kingston, while the Guyana Amazon Warriors next action is on the same day, against the Antigua Hawksbills in Antigua. The inaugural Limacol Caribbean Premier League runs until 24 August with the two semi-finals and final taking place in Trinidad.
Around the Web