MOSCOW, (Reuters) – It was doubles all round as Britain's master of distance running Mo Farah and Jamaican sprint queen Shelly-Ann Fraser-Pryce won their second gold medals of the world championships yesterday.
But Fraser-Pryce's eagerly-anticipated showdown with three-times champion Allyson Felix was cut short when the elegant American pulled up on the bend and fell to the track after tearing her right hamstring in a dramatic 200 metres final.
There were also two golds for the hosts as hammer thrower Tatyana Lysenko and long jumper Aleksandr Menkov, driven on by a raucous crowd, produced world-leading distances for victory.
Even though the Luzhniki stadium was still only three-quarters full, the noise topped that made when Russia's best-known athlete Yelena Isinbayeva won the pole vault title on Tuesday.
Isinbayeva was still making headlines as she backtracked from her controversial comments in support of Russia's anti-gay propaganda law, saying she had been misunderstood because of her poor English.
"Let me make it clear I respect the views of my fellow athletes, and let me state in the strongest terms that I am opposed to any discrimination against gay people on the grounds of their sexuality," she said in a statement.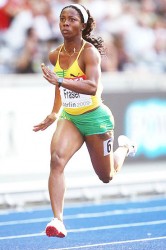 Amid the ecstasy of victory, the agony was also clear to see as a distraught Felix, aiming for a record ninth world gold, was carried out of the stadium by her brother Wes at the same time a beaming Fraser-Pryce danced to Bob Marley's 'One Love' on her lap of honour.
"I'm extremely devastated. I was really hoping to go out there and put together a great race," Felix told reporters. "It is a serious injury."
The best starter in the business, Fraser-Pryce blasted out of the blocks and stormed round the bend with a look of sheer determination on her face as Felix, one lane inside, crumpled.
The Jamaican streaked to victory in 22.17 seconds to become the first woman to do the sprint double at the worlds since Katrin Krabbe in 1991.
"This year I did a lot more 200 metres training, a lot of sacrifice, commitment and dedication," the 26-year-old Fraser-Pryce said.
Usain Bolt should claim another sprint double for Jamaica today with or without a sore foot after the 100 metres champion made it safely through the semi-finals of the 200.
Bolt, who dropped a starting block on his foot earlier in the week, was forced to speed up in the home straight to hold off Anaso Jobodwana and he smiled at the young South African as he crossed the line in 20.12.
"I didn't want to lose the race so I had to switch gears for the last 25 metres," defending world champion Bolt said.
"I'm looking forward to seeing how fast I can go in the final. I'd like to get an outside lane it will be easier for me," added the giant sprinter.
INVINCIBILITY AURA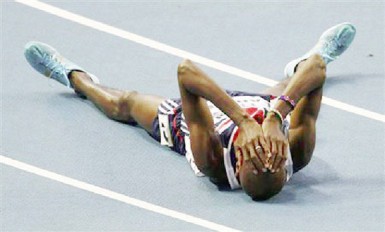 Like Bolt, Farah has an aura of invincibility these days and the Briton made certain his name would be included in the pantheon of distance greats by retaining his 5,000 metres title, six days after winning the 10,000.
Farah became the only the second man after Ethiopia's Kenenisa Bekele to hold the Olympic and world distance double simultaneously.
In a cagey race, Farah, who struggled with a stitch early on, began the long sprint for home with 600 metres to go and although his rivals desperately stuck with him, none of them had the speed to go past.
The double Olympic champion crossed the line with his arms outstretched before bringing them to his head in his 'Mobot' pose.
"This double was definitely tougher than the Olympic one because last year nobody knew what I was capable of," he said.
Usually overshadowed by the track action, it was the field events that captivated a partisan crowd, who reserved the biggest cheers of the night for Lysenko and Menkov.
Lysenko's hammer victory got the Russian flags waving as the Olympic champion, who came back from a two-year doping suspension in 2009, set a championship record with a monster throw of 78.80 metres – the second furthest ever – and bowed to all four sides of the stadium in recognition of their support.
Next came Menkov, who broke the Russian long jump record twice on the way to winning with 8.56 metres in a final in which six men leapt over 8.20.
Four-times world champion Dwight Phillips of the U.S. had postponed his retirement in a bid for one final golden moment but the 35-year-old finished down in 11th with 7.88.
Germany's David Storl retained his world shot put title in controversial circumstances when his winning throw of 21.73 metres, originally ruled a foul, was allowed to stand after judges consulted a photographer's camera.
Normal service had resumed for the U.S by the end of the night with the men's 4×400 relay team dominating the race to win in 2:58.71.
Around the Web