Guyana's national squash team continued its good showing drubbing Trinidad and Tobago 4-1 on Day 6 of the Digicel 2013 Senior Caribbean Squash Championship at the Georgetown Club courts yesterday.
Guyana with the help of Garfield Wiltshire, Brendon Mounter, Dennis Dias, Jillian Griffith, Chauncy Lee propelled their team to a wide-margin victory over Trinidad.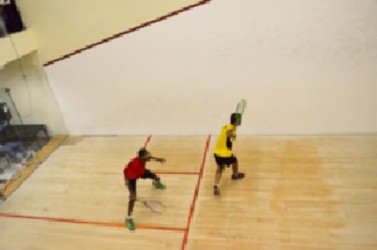 Wiltshire in the Men's 40+ Category lost the first set to Peter Pirtheesingh 9-11 but Pirtheesingh was helpless in their remaining sets as Wiltshire took the last three sets in 11-9, 11-1 and 11-5 respectively.
John Holley then  went under to Mounter in three straight sets, 6-11, 10-12, and 5-11 but Dias was unable to keep the trend up for Guyana when he beaten by Richard Hart in straight sets of 5-11, 3-11, and 11-13.
Trinidad had no representatives in the Women's 40+ and Women's 50+ which allowed Guyana's  Griffith and Lee to win by walkovers in the respective categories.
Meanwhile, Barbados recorded a 4-1 win over OECS in their team play-off winning the Men's 50+, 60+, Women's 40+ and 50+ respectively. OECS only won the Men's 40+ Category.
These results were up-press time. For more results check tomorrow's edition.
Around the Web