In heavy downpour at the National Park yesterday national cyclist Alanzo Greaves reigned supreme over his rivals in the feature 35-lap event of the third Malta Supreme 11-race cycle programme.
With the win in one hour, 16 minutes and 55 seconds, the Roraima Bikers Club (RBC) product notched his 12th win of the season.
Greaves outsprinted fellow national riders Godfrey Pollydore, Paul  DeNobrega, Raynauth Jeffrey and Hamzah Eastman in the event where the top five lapped all of the other 19 starters.
The inform Greaves also carted off half of the eight sprint prizes while two went to Pollydore and one apiece to Jeffrey and DeNobrega.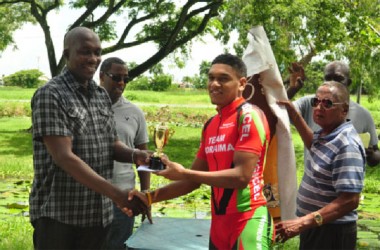 In other events of yesterday's cycle programme, Jamal John took the top honours in the 12 to 14 Boys and Girls five-lap event ahead of Raphael Leung, and Ray Rawle.
Jason Jordan however won the sprint prize.
Top veteran rider, Junior Niles of Team Coco sped off with the winner's trophy, besting rivals Kennard Lovell and Shameer Bashk.
In the veteran's Over- 50 race, Lancelot Rose pedaled in ahead of Virgil Jones and Dwayne Ramsey.
Maurice Fagundes was the only Over 60 finisher and subsequently took home the winner's trophy.
Before the feature event, 18-year old Eastman out sprinted Alonzo Ambrose and Andre Abdool to cart off the spoils the Juveniles 10-lap race.
Eastman also sped off with both sprint prizes.
In the race for the Mountain Bikers, Stephano Husbands was first followed by Mike Holder and Julio Melville.
The BMX 6 to 9 year event saw Sherwin Sampson out pedaling Jeremiah Harrison.
Rachedi Ceres took home the 9 to 12 year's BMX Boys spoils since he was the only finisher.
In the 12-14 BMX Boys event however Rawle Small and Deeraj Garbarran bested Ceres. Jamal John,Adrian Sharma and Keiron Rutherford occupied the top three positions respectively in the BMX Open race.
The cyclists will now take their talents to the Seawall Bandstand today to compete in the inaugural RBC and Bryden and Fernandes 10-race Classic.
Around the Web