Caribbean Area Squash Association (CASA) President Craig Archer Saturday night said that Guyana has earned an automatic qualification for the 2015 Pan Am Games to be held in Toronto, Canada.
Addressing the gathering at the tournament's closing ceremony hosted at Grand Coastal Inn on the East Coast Demerara on Saturday Archer said Guyana's qualification was as a result of the teams' performances at the just concluded Caribbean Squash Championships which was held at the Georgetown Club.
At the championships Guyana won the male and female team titles, the ladies singles title, through world-ranked Nicolette Fernandes and placed second in the prestigious men's singles through Sunil Seth.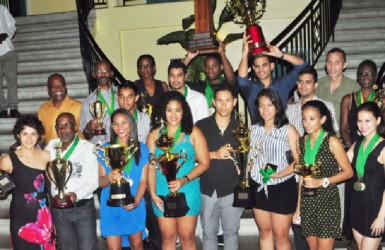 Archer stated that he was proud of Guyana for a well executed 2013 Senior Caribbean Squash Championships and urged this country to support the Caribbean 2020 Back the Bid Initiative so that squash could realize its dream of becoming an Olympic sport.
Guyana Squash Association (GSA) member Robin Low, in delivering the vote of thanks, expressed his gratitude to the respective sponsors for coming on board to support the event stating that without them the tournament would not have been such a success.
President of the GSA, David Fernandes, in an invited comment stated: "The tournament went well. I am very proud of the way we managed it especially from an association point of view. I am extremely proud with the performances of our athletes. It was a really great achievement."
Guyana crushed their Barbadian counterparts by a 4-1 score line to clinch their first senior Caribbean women's title while the men trounced the Jamaicans 4-1. In the veterans division, the home side finished second to Barbados.
Guyana received both the male and female team trophies as well as the overall team trophy.
Additional trophies and medals were awarded to the top two finishers in the women's team tournament while medals and trophies were awarded to the top three finishers in the men's and veterans team tournament.
In the individual competition medals and trophies were awarded to the top three finishers.
Caribbean squash queen and world number 28th Fernandes was presented with her individual singles trophy after she easily disposed of Barbadian Karen Meakins 11-6, 11-2, and 11-5 to clinch the crown.
Guyana also claimed four of the top 10 individual female finishers as Ashley Khalil, Mary-Fung-A-Fat, Ashley DeGroot and Keisha Jeffrey placed third, fourth, fifth and sixth respectively.
Rounding out the female top 10 were Karen Meakins (Bar), Melissa Lue-Yen (Jam), Brooke Burrowes (Jam), Gylla Mackenzie (Bar) and Alex Jordon (Bar) who finished second, seventh, eighth, ninth and 10th respectively.
On the male side, Jamaica's Chris Binnie received his individual men's trophy. Binnie clinched the title following his epic 66-minute match with Seth which ended 8-11, 11-7, 11-4, 8-11, 11-8.
Guyana also claimed three out of the top 10 male individual finishers with Seth, Richard Chin and Alex Arjoon finishing second, fourth and sixth respectively. Trophies were awarded to the top 10 finishers in the men and women's individual events.
Rounding out the men's top 10 were Mark Chaloner (Cay Is.) Cameron Stafford (Cay Is.), Gavin Cumberbatch (Bar), Bruce Burrowes (Jam), Shawn Simpson (Bar) and Mandela Patrick (T and T) who finished third, fifth, seventh, eighth, ninth and 10th respectively.
(Caption)
Around the Web