CARIFTA Games gold medalist Jevina Straker and CARIFTA Games representative Alita Moore shattered records on the second and final day of the IV Boyce/Jefford Classic yesterday.
Before a massive crowd here in Linden at the Mackenzie Sports Club Ground, Straker and Moore clocked 4:56.40 seconds and 58.10 seconds in the Women's 1500m and 400m finals respectively.
Straker, a two-time gold medalist and athlete of the Running Brave Athletics Club, erased Jenella Jonas's record of 5:02s with Grenada'a Kenisha Pascal clocking five minutes flat to finish second ahead of Alika Morgan of Rising Stars who was third in 5:10.10 seconds.
Moore, of the Police Progressive Youth Club (PPYC) sprinted home without a challenge to add a record to her name in 58.10 seconds.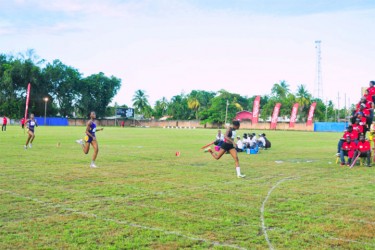 Behind the meet record holder was Running Brave's Natrena Hooper who finished second in 58.90 seconds while Neisa Allen clinched third place in 1:01.10 seconds.
South American Under-23 Games bronze medallist Stephan James in the absence of local track star, Winston George, claimed in Men's 400m final ahead of Shawn Semple and CARIFTA Games bronze medalist Jason Yaw.
James's winning time was 49.60 seconds while Semple, of the PPYC, clocked 49.80 seconds and Yaw 50.40 seconds.
Cleveland Thomas of Running Brave won ahead of Kevin Bayley in 4:13.20 seconds. Bayley finished in 4:14.60 seconds ahead Of Devon Barrington who clocked 4:15.60 seconds.
Up to press time, Running Brave, last year's second place finishers, were ahead of defending champions Police by 16 points after 15 finals.
The defending champions are on 226 points while Christianburg/Wismar Track Club is in third place with 95 points.

Points standing after 15 finals
Police 226
Running brave 242
GDF 84
Christianburg 95
Around the Web