(Reuters) – Australia coach Darren Lehmann has accused England's Stuart Broad of "blatant cheating" and called on fans to send the fast bowler home from the return Ashes series in tears.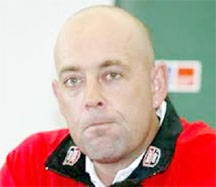 Broad admitted edging a ball from spinner Ashton Agar that was caught by Michael Clarke, via wicketkeeper Brad Haddin's gloves, during the first test at Trent Bridge, but did not walk after umpire Aleem Dar gave him not out. Australia had already used up all their reviews so were unable to challenge.
"Certainly our players haven't forgotten, they're calling him everything under the sun as they go past," Lehmann told Australia's Triple M radio station yesterday ahead of the start of the fifth test.
"I hope the Australian public are the same because that was just blatant cheating. I don't advocate walking but when you hit it to first slip it's pretty hard.
"From my point of view I just hope the Australian public give it to him right from the word go for the whole summer and I hope he cries and he goes home."
The England Cricket Board were not available for comment.
The standard of umpiring has come under fire throughout the series, which England lead 3-0, as well as the reliability of the decision review system.
Broad's non-dismissal provoked debate about whether batsmen should walk if they know they are out, with many siding with Broad.
Lehmann reignited the issue on the eve of the fifth and final test, which gets underway at The Oval on Wednesday.
"I just hope everyone gets stuck into him because the way he's carried on and the way he's commented in public about it is ridiculous," the Australian added.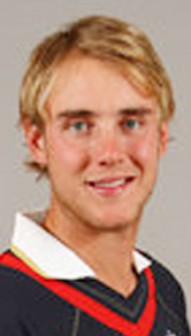 "He hit it to first slip … and the biggest problem there is the poor umpire cops all the crap that he gets in paper and Stuart Broad makes them look like fools."
Broad said during an interview on Monday that he knew he had hit the ball, which came during a crucial seventh wicket stand with Ian Bell on the third day of the test, which England won by 14 runs.
"It wasn't as clear-cut as everyone had thought, although I knew I'd hit it," Broad said.
"For players on the field not to have known if I nicked it proves there was confusion. It was an odd one. There was no particular noise because of the noise of Haddin's gloves.
"I went down to the other end and Ian Bell said, 'what happened there? I didn't hear anything'.
"Agar came up to me and asked if I'd nicked it because he wasn't sure. Walking's an interesting one. You have a split second and sometimes when you edge it you walk out of pure frustration. You kick yourself and walk away."
The return Ashes series begins in Brisbane on Nov. 21.
Around the Web