HAMILTON, Bermuda, CMC — St George's batsman Treadwell Gibbons, Jr has been hit with a suspended two-year ban from playing Cup Match — Bermuda's premier domestic fixture — and fined 50 per cent of his match fee following an embarrassing outburst after he was given out in the second innings of a drawn match earlier this month.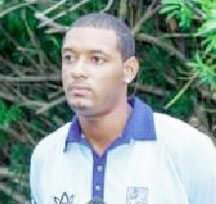 The two-day game at St George's Wellington Oval ground ended in a draw, with holders Somerset retaining the trophy after lifting the cup at home last season.
The two clubs, at each end of the island, have been battling for cup supremacy since the annual game, now accompanied by a two-day national holiday, was introduced in 1902.
"In light of all the evidence presented from various parties the committee came to a unanimous conclusion," club President Neil Paynter said in a press release.
"St George's Cricket Club is willing to work with Treadwell Gibbons, Jr to help him achieve his goals.
"He immediately apologised to the club and he has been extremely apologetic to all of Bermuda. He has demonstrated genuine remorse and we are satisfied that this situation has been resolved appropriately."
Around the Web