The Guyana Tennis Association has sent a congratulatory message to Sachia Vickery who recently qualified to participate in the upcoming US Open lawn tennis tournament.
The top-seeded Vickery recently defeated second-seeded Alexandra Kiick 4-6, 6-2, 6-0 to win the USTA Girls' 18s National Championship at Barnes Tennis Center, San Diego.
The 17-year-old Vickery of Miramar, Florida, is now ranked 230th in the WTA Tour rankings.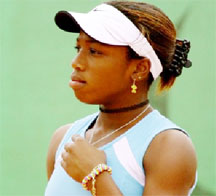 "The Guyana Tennis Association (GTA) and the local tennis fraternity sends heartfelt congratulations to you and your parents for your recent crowning as America's USTA number one Under 18 female player," part of the release stated.
"We are extremely proud and elated at this achievement but not surprised since we have been fortunate to see your exceptional talent on Guyana's soil during 2009 after your remarkable accomplishment as the top Under 13 player worldwide," the release added.
"Our local tennis players are highly inspired by your performances in tennis over the years and our juniors aspire to walk in your footsteps if given the opportunity. We will continue to use your successes to promote this great sport in Guyana," stated the release.
Vickery will swing into action on Tuesday against a qualifier yet to be determined.
She is slotted in the bottom half of the main draw and is likely to compete with 13th ranked, Ana Ivanovic, 11th seeded and former US Open finalist Samantha Stosur of Australia and second seed Victoria Azarenka.
"We know that your high level of determination to become the World's #1 female player will help you to achieve your ultimate goals in tennis," stated the GTA release.
Around the Web