Andre Russell removed the lid of doubt, smashing three consecutive sixes to catapult the Jamaica Tallawahs into today's final of the Limacol Caribbean Premier League last night at the Queen's Park Oval in the second semi-final of the inaugural tournament.
They will take on Guyana's Amazon warriors who had beaten the Trinidad Red Steel in Thursday's first semi-final.
It looked a close game when Russell entered the crease but that soon dissipated. Russell, who has been in great form for the Tallawahs, smashed 29 runs from just six balls to turn a tight game into an easy win for the Jamaican franchise.
The Barbados Tridents had recovered from a slow start to put on a score of 148/6 from their 20 overs but heroic innings from Chadwick Walton, Kumar Sangakkara and Russell made quite light work of that total.  One must take note that the name Chris Gayle wasn't mentioned. The Jamaican was out early in the chase for just three runs, driving straight to Pollard at cover but Walton and Sangakkara combined to get the Tallawahs back into the match. They batted positively in a tough situation. Walton looked in fine touch, hitting 45 runs from just 40 balls. He played an array of strokes, hitting five fours and a six during his time at the crease.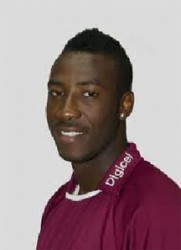 Sangakkara at the other end was also fluent in his knock of 50. It came from just 38 balls and included four fours and two sixes. Both batsmen took the score to 87/2 before Walton was run out brilliantly by Carter, undecided for a single with Sangakkara. Hyatt started off positively hitting two boundaries and putting on 30 runs with Sangakkara but he too went as the game began getting close. With 32 runs required from 20 balls, Russell changed the whole feeling of the occasion. Jason Holder's 18th over cost 15 runs, which included Russell's first six. With 15 runs needed from two overs, Russell seemed in a hurry to finish off the match.
Azhar Mahmood was struck for three consecutive sixes to end it all and send the Tallawahs into the finals. A close game had been turned on its head.
The Barbados Tridents too needed a hero, well heroes. With just seven balls gone in the innings, they lost Dwayne Smith Leg Before Wicket to Dave Bernard. Smith had a right to feel hard done as the ball struck him high on the pads and was heading down leg-side. Jason Holder was the surprise Number three batsman for the Tridents. It worked for his first ball when he cut away a short and wide delivery from Bernard for four runs but that was as good as that decision worked. Philander returned in his second over to take his edge.
At 6/2, the Tridents were in a similar situation to that of the Red Steel a day earlier but Raymon Reifer and Shoaib Malik combined in a century-long stand to get the Tridents back into the match. They started cautiously in an effort to stem the flow of wickets, but propelled so well coming down at the backend of the innings that the Tridents had gotten their noses in front. It happened almost discreetly. They took the score from 6/2 to 108/3, putting on 102 runs for the third wicket. Reifer had batted well, stroking 36 runs from 43 balls. He struck four boundaries but only as the innings ended. Malik was more aggressive striking three sixes and a four. He made a quick 49 runs from 47 balls.
The highlight of the partnership though was the running between the wickets. They ran hard and gave away few dot balls. They batted 71 balls together, until Reifer was run out attempting a second run late in the 17th over. Malik followed the very next ball failing to clear Chadwick Walton at long-on. Pollard and Azar Mahmood put on a quick 25 runs. Pollard hit 13 runs from just five balls before he was unluckily run out as Mahmood straight drove a ball into the boot of Andre Russell. The bowler was merely trying to get out of the way of the ball. Kyle Mayers provided good support for Mahmood at the end as the Tridents ended their 20 overs on 148/6.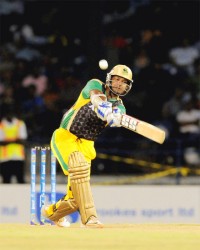 Andre Russell picked up the Limacol Super Six award while Kumar Sangakkara was named both the Digicel 4G Fastest Scorer and the Man of the Match. The final will be contested between the Guyana Amazon Warriors and the Jamaica Tallawahs.(LCPLT20.com)
SCOREBOARD
Barbados Tridents innings:
D.  Smith lbw b Bernard                                                           1
R.  Reifer  run out (Russell/Gayle) (43b)                                36
J.  Holder c wkp Baugh b Philander                                        5
Shoaib Malik c Walton b Gayle (47b)                                       49
K.  Pollard (capt) run out (Russell)  (5b)                                      13
Azhar  Mahmood c Gayle b Philander  (7b)                           14
K.  Mayers not out                                                                 12
Extras  (lb 10, w 8)                                                               18
Total (6 wkts off  20 overs)                                                     148
Did not bat –  J.  Carter (wkp) , A.  Nurse, R. Emrit, Shakib Al Hasan
Fall of wkts:  1-1 (Smith, 1.1 ov), 2-6 (Holder, 2.1 ov), 3-108 (Reifer, 16.5 ov), 4-108 (Shoaib Malik, 16.6 ov), 5-133 (Pollard, 18.3 ov), 6-148 (Azhar Mahmood, 19.6 ov)
Bowling:
V.  Philander 4-0-28-2 (1w)
D.  Bernard 4-0-21-1 (2w)
A. Russell 3-0-31-0
M Muralitharan  3-0-26-0 (1w)
N.  Miller 3-0-18-0
C.  Gayle 3-0-14-1 (2w)
Jamaica Tallawahs innings:
CAK Walton  run out (wkp Carter) (40b)                              45
CH Gayle (capt) c Pollard b Azhar Mahmood                           3
K.  Sangakkara not out (38b)                                                   50
D.  Hyatt c Pollard b Azhar Mahmood (18b)                            12
A. Russell not out (6b)                                                             29
Extras  (b 4, lb 4, w 5)                                                           13
Total  (3 wkts off 18.3 overs)                                               152
Did not bat – J Blackwood, CS Baugh†, DE Bernard, VD Philander, NO Miller, M Muralitharan
Fall of wickets 1-16 (Gayle, 3.3 ov), 2-87 (Walton, 11.3 ov), 3-117 (Hyatt, 16.4 ov)
Bowling :
Shoaib Malik  2-0-19-0 (1w)
Azhar Mahmood  3.3-0-37-2
J.  Holder 3-0-22-0  (1w)
R.  Emrit 2-0-19-0
Shakib Al Hasan 1-0-8-0
K.  Pollard 4-0-22-0 (1w)
A. Nurse 3-0-17-0 (2w)
RESULT :  Jamaica Tallawahs won by 7 wkts and qualify for final.
Man-Of-The-Match – Kumar Sangakarra (Tallawahs)
Umpires – N Duguid and JS Wilson
TV umpire-  B Bowden (New Zealand)
Match referee – M Procter
Around the Web