SPA-FRANCORCHAMPS, Belgium,  (Reuters) – Lewis Hamilton turned the screw on Formula One championship leader Sebastian Vettel at the Belgian Grand Prix yesterday by chalking up his fourth pole position in a row.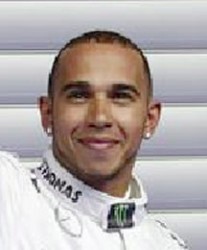 Not since Damon Hill with Williams in 1995 has a British driver started four races in a row from pole, and the 31st of Hamilton's career left him eight short of his Red Bull rival's tally.
The Mercedes driver is narrowing the gap in the statistics but he needs to do so in the standings today to make it a real championship duel between two rivals still separated by 48 points with nine races to go.
Hamilton did not need reminding of that and was confident he could do so.
"He's had so many pole positions but I am slowly catching up. I've caught four up on him but it's not important. Wins are more important," said Hamilton.
The Briton has translated only five of his poles so far this season into a win, his first for Mercedes coming at the Hungarian Grand Prix before the start of the August break, but he is gaining momentum. Mercedes have now chalked up eight poles in 11 races, with Vettel taking the other three, and Hamilton – currently fourth overall – is moving into contention after a difficult start to the year.
Around the Web