NEW YORK, (Reuters) – Like a high roller on an endless winning streak, Serena Williams believes she just cannot lose.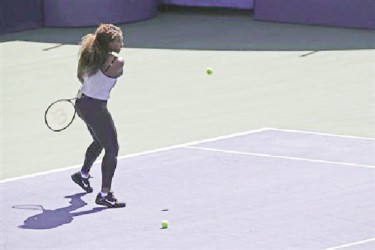 Williams was not making any bold statements about her chances of winning the U.S, Open, starting tomorrow but with 16 grand slams titles already under her belt, but says she feels she is playing with the house's money.
"I don't need to do anything," she told a news conference at the annual media day yesterday.
"That's the beauty of my career. I don't need to do anything at all. Everything I do from this day forward is a bonus."
Despite knowing her place in the pantheon of tennis greats is already assured, Williams is not resting on her laurels just yet.
The world number one already has her sights set on more grand slams, including this year's U.S. Open, where she is the overwhelming favourite to successfully defend the title she won last year.
"My motivation just comes from different place and different areas," she said.
"I love to play tennis and I love winning and I think that keeps me motivated. I want to keep it up and I want to keep improving and try to keep winning."
Williams has always had an unwavering belief in her ability to perform at the biggest events since she won her first U.S. Open in 1999 when she was just 17 years old. "When the tournament started, I told myself I was going to win and I felt it. I have these weird feelings all the time," she said.
"I wasn't really surprised. I mean, I was happy and elated, but I just had this instinct that I was going to win this title."
That win was the start of her domination of the women's game. Last year, she won her fourth U.S. Open, aged 30 and has shown no signs of slowing down. In June, she won the French Open, which has traditionally been her toughest major, for a second time. If the American wins again at Flushing Meadows, she will become the oldest female champion in New York since tennis turned professional in 1968.
"That would be great but that's not one thing I focus on and think about," she said.
"I just think about there are so many people in the competition and so many things I would like to do.
"The instincts don't come as often this time, nowadays. I don't have an instinct. But I have also had that feeling going to a lot of slams I have won."
Around the Web