Berbician, Gumendra Shewdas created history yesterday by becoming Guyana's youngest World Champion when he squatted, bench pressed and dead lifted his way to the top of the podium at the World Juniors and Sub Juniors Men's Championships in Killeen, Texas.
Shewdas, 18, recorded a total of 475.5kg en route to lifting the gold medal in the 53kg sub junior class,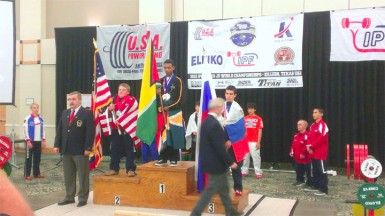 the first of its kind for any local athlete at his age.
The power lifting prodigy and runner up Junior Sportsman of the year was so dominant that his closest rival; USA's Dalton La Coe finished a distant second, copping the silver in excess of 50kg behind (425kg total).
Shewdas' best squat (180kg) and bench press (90kg) routines were below par and trailed La Coe 182.5kg (squat), 105kg (bench press) heading into the dead lifts by 17.5kg but a monster lift of 205kg on his second attempt catapulted the local powerhouse into the lead after La Coe could only muster a lift of 137.5kg, bombing out twice on 192.5kg. Russia's Alexei Kulakov was third with a total of (412.5kg) while Japan's Tetsuharu Katsuta (400kg total) and Ecuador's Erick Aguilar (385kg total) rounded out the top five. Shewdas, a Commonwealth and Pan American gold medalist and record holder now adds world champion to his bulging resume and president of the Guyana Amateur Power lifting Federation (GAPF) Peter Green could not contain his praises for the native of Corriverton.
"The federation is extremely elated," an excited Green told Stabroek Sport yesterday.
"We are extremely happy to give Guyana its youngest World Champion for any discipline, all the hard work and faith in the ability of our athletes has borne fruit."
Green added:"Congrats to Gumendra and his personal coach Egbert Jackson of Total Fitness Gym and many other stakeholders who have contributed towards his success.
"The federation would like to thank the Ministry of Sport for hearing our pleas and providing the costly tickets that ensured Guyana would have a world champion. Jamaica has their athletics and Guyana has our power lifters."
Shewdas, along with Manager/Coach, Denroy Livan is scheduled to return to Guyana tomorrow night.
Around the Web