When Sachia Vickery sashays onto court 7 this afternoon at the US Open Tennis Championships in New York, she would dancing deeper into the hearts of many who have seen her career blossom like a well manicured flower.
She'll rise in tennis' 'garden' against tall, 31-year-old Croatian Mirjana Lucic-Bartoni, and the prodigious teenager's pirouette into the world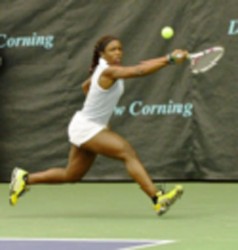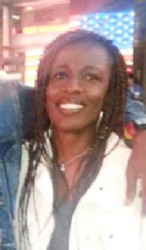 of tennis princesshood is the story of fairy tales, but don't bet on her mom agreeing with that.
To Guyana-born Paula Liverpool, the sacrifices run deep for her daughter's eventual fortuity. And, she is the prime mover in those sacrifices that, today, propels Vickery onto the big stage.
"It has been a long, ardous, challenging road," confessed the bold, articulate Liverpool, reflecting on the times she felt like giving up as her daughter's progress put increasing demands on time and other innate resources. "The hard work and sacrifices are paying off and this (US Open main draw play) is only scratching the base of the mountain, she has further to climb," the former Kwakwani, Reg. 10 resident told Stabroek Sports.
Liverpool, though, might be pinching herself while sitting in the players' family box witnessing her prized offspring open another chapter in her meteorite-like career.
Every iota of being a proud parent would be evident; and she would have deep reasons for those emotions. "Am grateful, am happy for Sachia. Thanks to God for he's the most vital part of this," the Guyana-born Liverpool said, explaining that she's "not by nature a person that's very easily excited."
But, today Liverpool and Vickery will be the source of excitement to many relatives, friends and fans who learnt that she made the cut to contest the American end of the Grand Slam. Congratulations have been many and speedy, and expectations will be in the same vein. Since winning the USTA 18s Girls Singles and Doubles championships earlier this month – which laid the welcome mat to the US Open – Liverpool and Vickery have been inundated with calls, texts, emails and social media messages that have kept them up way beyond bedtime, at times. "A lot of people have come out of the woodwork, congratulating the family on Sachia accomplishments, and I am so appreciative of those."
The nuance in many of the messages underscores Liverpool's consistent drive to provide her daughter with every positive ingredient to perfect her craft and growth "once it was affordable, even in the most remote of instances". She has had to work at jobs that provided little, just so she can compromise time-off to accompany her daughter for tourneys in the US and around the world for junior tourney.
Since her daughter showed a penchant for sports at age 5, Liverpool has directed her path. "Sachia is a premmie (premature birth) baby, and since small she was muscular, so it was no surprise she is sports inclined, but am happy that we stood by her and encouraged her pursuits."
An epitome of the true 'tennis mom', Liverpool's services to her daughter is of inestimable quantity and quality that Vickery, herself, says her mom is her greatest fan and support. In many instances she has been manager, coach, agent and chaperone, but always the good, astute mother.
"Look, last year she signed a clothing deal with Lacoste and they were trying to lock us to a 5-6 year deal, but for some reason I didn't want it to go past her 18th birthday, because then she would want to make her own moves," offered Liverpool to underscore some of the tough decisions she has had to make for Vickery's welfare. The deal ended in May and her daughter's ascension in the tennis world, now opens up wider opportunities along endorsement lines, thus adding credence to Liverpool's decision making dexterity.
Vickery's whirlwind that engulfed August might just the dawning of tennis new 'golden girl' due to her national junior titles, the grand slam invite, and the USTA's arrangements for her to be afforded full service management and coaching.
The 'Sachia swirl' continued shortly after when the young Taurus was impressively honoured by her homestead's municipality. At a mid-morning ceremony she was presented with a city proclamation by Miramar's Vice Mayor bequeathing August 14, 2013 as 'Sachia Vickery Day'.
With the pundits' outlook that the world's #1 player is not far from retirement, the lookout is for the 'next Serena'. Vickery's will have her name and game in closer focus, now, as is the case with Sloane Stevens, a hard-hitting player of Trinidadian heritage who has a win over Serena.
"I have always looked up to Serena, and I've played Sloane many times before in juniors. I'm feeling really, really excited to be in the same tournament with them," the 18 year old offered about her idol and one of the heirs apparent. " when asked if she got a call from the tennis superstar, yet. "
Speaking with this newspaper Vickery was a picture of pensiveness as she learnt that fans put her into their 'SSS trio' of players carrying uncannily similar appearances – Serena, Sloane, and now Sachia – the 'superstar sistas'.
Vickery began turning heads and wagging tongues about 8 years old just after her mom had a chance meeting with Richard Williams, the father and early coach of the superstar Williams sisters during her career working for PanAm and Delta airlines. That happenstance brought about deep acquaintances with the Williams family, and provided opportunities for Vickery to visit with her mom and "knock some balls under the eyes of tennis' dotting, dainty dad of champions".
Now, Liverpool can call on the experience of logging tiring travels being a former airline industry personnel; as the future looms for unending travels with her daughter. No doubt, those miles are turning into incessant smiles with the addition of the 'S' from her offspring's soon-to-be popular and tennis-synonymous first name: 'Sachia'.
Around the Web