From Donald Duff
in St Lucia
Trenace Lowe picked up two matches while Chelsea Edghill won the decider as the Guyana women's table tennis team stunned the defending women's champions, the Dominican Republic by three games to two to rush into the semi-finals on the first day of the 51st Caribbean Table Tennis Championships yesterday in St Lucia.
Lowe, the USA-based southpaw racquet wielder defeated Lynette Vila and Eva Brito while Edghill defeated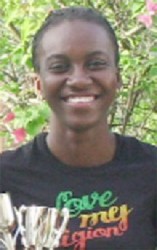 Vila to give the Guyanese their first ever win over the Dominican Republic women.  Team captain Lowe was ecstatic after the victory at the Beausejour Indoor facility.
"Well  for the last two years we've been losing to Dom Rep and especially Ava, I have had her to beat on at least two occasions and ended up losing so I was glad to beat her this time," she told Stabroek Sport immediately following the win.
But Guyana, runners-up last year,  looked hardly likely to win when Edghill lost to Brito 4-11, 8-11, 10-12 before Lowe levelled the score with an 11-7, 11-5, and 11-8 win over Vila.
The third player Natalie Cummings battled from two sets down to force a decisive fifth game only to lose to Yasiris Ortiz 9-11, 7-11, 11-6, 11-6, 6-11.
Lowe returned to defeat top player Brito 13-11, 11-13, 11-7, 11-9 while Edghill defeated Vila 11-6, 11-9, 13-11.
"It felt really good beating them especially Vila. I played her last year and she beat me so I got my revenge," she declared. The third player, Cummings said she felt that she let her teammates down somewhat and would be looking to make up for it in the upcoming games.
Earlier yesterday, the women's team blanked Martinique 3-0 with  Edghill defeating Ginetta Renion 11-5, 11-4, 11-6;  Lowe thumping  Corinne Pharose 11-4, 11-5, 11-1 and  Cummings thrashing Kelly Ann Heliose 11-1, 11-2, 11-6.
The men's team though started off with a defeat against neighbouring Trinidad and Tobago and needed to win their final group match last night against hosts St Lucia to advance to the six-team final round robin playoffs.
The players had arrived at the facility  at just around 9.30am and one hour later took on Trinidad and Tobago's men's team.
Though the Guyana team lost 0-3 the matches were close. Edinho Lewis playing the opening tie against Curtis Humphreys immediately fell behind 0-5 and eventually lost the first game 11-3. He played much better in the second game where he managed to stay with Humphreys until the score read 4-4 whereupon Humphrey won the next four points before Lewis crept back to within one at 7-8. It was all Humphreys thereafter as he ran out a comfortable 11-7 winner.
Humphrey led 4-1 and 7-3 in the third game before Lewis fought back to level the score at 7. However he went under 9-11.
Joel Alleyne led Dexter St Louis 3-2 in the first game of their match before the France-based semi-professional player reeled off the next nine points to take the set and a 1-0 lead.  Alleyne had his moments in the second game where he led 7-3 and  8-6 before he allowed St Louis to come from behind and steal game two 12-10. In the final game St Louis stepped it up a notch and cruised to an 11-3 triumph.
Needing a win to keep the tie alive, Nigel Bryan flattered to deceive when he knotted the match against Alaric Humphreys 1-1 with an 11-5 win after he had lost the first set by a similar score. But Humphreys rebounded to take the pivotal third game 11-7 before squeezing home in the fourth 12 -10 despite Bryan having game points on two occasions.
The opening ceremony was down to take place last night before the night matches.
Around the Web