Guyanese Renaldo Mohammed won the Most Outstanding Cricketer award at the recently concluded West Indies Cricket Board Sandals Foundation Under 15 High Performance Camp in Antigua for cricketers from the Leeward Islands, Guyana and Trinidad and Tobago.
A release yesterday from the WICB said that a similar camp was held in St Lucia for Jamaica, Barbados,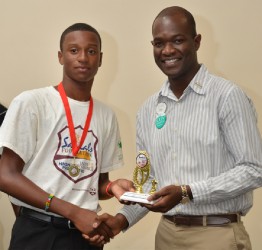 and the Windward Islands.
The WICB said that Mohammed was also the leading bowler in the WICB Regional Under 15 Tournament this year, finishing the tournament with 33 wickets, inclusive of a match haul of 14 wickets against the Leeward Islands.
It said that at the camp, Mohammed's teammate, Richie Looknauth won the trophy for Best Bowler while Trinidad and Tobago's Under 15 captain Kirsten Kallicharan was adjudged the Best Batsman.  The Best Fielder Award went to Chrystian Thurton of Trinidad and Tobago while his teammate, Leonardo Julien took the award for Best Wicketkeeper.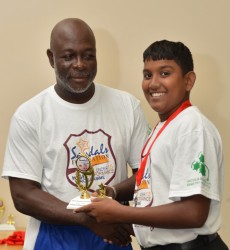 Other awards distributed were: Most Disciplined Team – Guyana;  Team Spirit Award – Asher Cornelius (Antigua and Barbuda/Leeward Islands);  Most Promising Players were Uri Smith  (Antigua and Barbuda/Leeward Islands), Ashmead Nedd (Guyana), Javani Tyson (Leeward Islands) and Nathaniel McDavid (Trinidad and Tobago).
The WICB reported that Antigua and Barbuda's Minister of Sports, Senator Winston Williams spoke at the closing ceremony on Tuesday afternoon at the Sir Vivian Richards Cricket Stadium, applauding the players for successfully completing the rigorous training programme. He urged the graduates of the camp to share the wealth of experience and training afforded to them during the recently concluded week-long training camp in Antigua and Barbuda.
The President of the Antigua and Barbuda Cricket Association (ABCA) Zorol Barthley echoed this exhortation, saying that the 57 elite young cricketers were not only fortunate for being a part of the camp but they were also responsible for sharing the knowledge gained with those in their countries and clubs who were not fortunate enough to have attended the camp.
According to the release, Barthley, the former West Indies Youth Team Captain said, "This project is established to ensure that you become good human beings. And it is important that you understand the principles and sacrifices made here for you."
He also applauded the WICB for the expertise and commitment injected into the programme.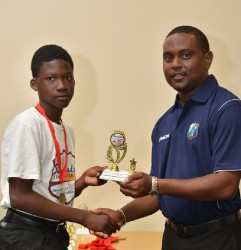 Head Coach Dwain Gill, pleased with the outcome of the camp, reiterated his coaching staff's focus for the past week was to emphasise the three main pillars of technical skills, techniques and strategy, and life skills.
He said the limitations of the players were identified early and the coaching team used the camp to address those specific points.
Coach Gill said most players would have passed the test and appeared to have mastered what used to be their flaws, and are now able to develop further and to become "thinking" cricketers, the release added.
Around the Web