The Lady Jaguars' performance at the Caribbean Football Union (CFU) Women's Under-17 World Cup qualifier was one of the worst showings in the history of the sport in Guyana.
During the Lady Jaguars' tour at Estadio Panamericano in San Cristobal,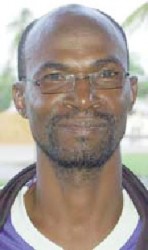 a total of 40 goals were conceded in their matches.
The one-sided encounters came when they competed against Haiti, the Dominican Republic and Grenada, while being under the management of Head Coach Lyndon France.
The Lady Jaguars who were expected to advance to the next round of the qualifiers, according to the Head Coach in previous comments to Stabroek Sport, were nailed 19-nil by powerhouse, Haiti in the opening game.
They were further embarrassed by the Dominican Republic in a 17-nil drubbing before being closed off by Grenada, 4-nil, ending their hopes of advancing.
France, in a candid interview with Stabroek Sport yesterday afternoon said that the team had played against some of the best female teams in the Caribbean.
The Head Coach noted that the locals' performance in the tournament does not mean that it was good, however he highlighted that the team was not as strong as the other teams in their Group (C).
For Guyana, playing in the Caribbean Football Union Women's Under-17 World Cup qualifier was part of the Guyana Football Federation's developmental plan, France disclosed.
Hoping that such tournaments will encourage females on the local scene to take up the sport, France stated, "Development is a process, the tournament was a gauge and hopefully it can be used as a motivating factor."
The team had a few players from the Scotiabank/Pepsi Schools Football Academy and also some players from the Rupununi which is believed by many to have some of the best football players in the country.
France noted that many of the players on the squad, who had a 3-day evaluation camp at the Kings Plaza Hotel on Main Street, were irregular players. "They do not train regularly nor compete; most are not in clubs," he said.
France believes that structures will assist in the development of female football but said the Guyana Football Federation (GFF) has always encountered problems in implementing them.
According to him the lack of resources is a recurring problem. "A lot of times you project and then the funds run low and as such you have to scale back," France said.
Around the Web