National cycling coach Hassan Mohamed, dubbed the eight-week 37th annual 'Teach Them Young'  Cycling Programme which concluded yesterday "arguably the best ever" while the participants told Stabroek Sport  that the imparted knowledge improved their riding skills.
According to Mohamed, despite several days of inclement weather, the two-hour, five-days-per-week programme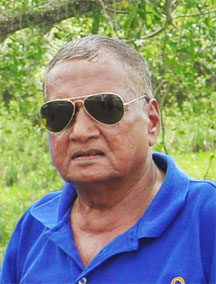 attracted a record 67 participants, one as young as five who learned the intricacies of cycling.
"This year's programme was arguably the best ever" said the 2011 Coach of the Year yesterday.
"The turnout was the best we ever had since the start of this programme 37 years ago, we had 67 participants despite the rain we experienced and for me this year was one of the best".
Mohamed added "The enthusiasm and discipline by the participants was very encouraging and commendable".
The National Cycling Coach also told this publication that he looks forward to continue imparting his knowledge to young cyclists.
So what was learned by the participants in this year's programme?
"I learnt a lot during the eight weeks" said one participant Alonzo Ambrose.
"My speed and my stamina have improved, he taught us how to sprint and I must say he is a good trainer because I placed in the top five for the feature race last week, it is only the second time I placed so high in a feature event" said the 17-year old who finished fourth in last week 35-lap event.
Similar sentiments were also echoed by some other participants including Cleveland King and five-year old Alex Leung.
During yesterday's interview, Mohamed also added that several races are planned to gauge the improvements of the riders.
The legendary coach also thanked the Ministry of Sport and the National Sports Commission for sponsoring the cycling nursery that has produced countless national cyclists like Alanzo Greaves, Robin Persaud, Geron Williams, Raynauth Jeffrey, Paul DeNobrega and others.
"I am happy that the Director of Sport, Neil Kumar has been very supportive along with the Ministry of Sport all through the years in continuing this programme and I hope I can continue giving results not only to the ministry but to the public and the cyclists who participate in the programme".
Around the Web