NASSAU, Bahamas (CMC) – The Bahamas is included on the itinerary for the FIFA World Cup trophy tour which will precede the 2014 World Cup Tournament in Brazil.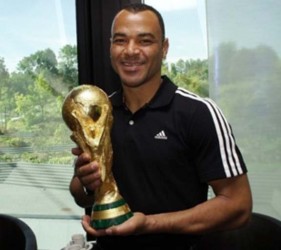 The trophy will arrive in Nassau, on the morning of October 8, at Odyssey Aviation which will be followed by a courtesy call on the governor general of the Bahamas.
In the afternoon, the trophy will be on exhibit for junior male and female football teams at Atlantis, Paradise Island. Following that event, a gala reception will be held where government officials and other local dignitaries will be in attendance.
The tour continues through Central America and the Caribbean through November 7 and from there will travel to Africa, the Middle East, Asia, South America, North America and Europe, to return to Brazil in late April 2014, in time for the start of the World Cup.
The FIFA World Cup trophy tour by Coca-Cola is an exhibition of the real, one-of-a-kind, solid-gold FIFA World Cup trophy. The tour officially starts in Brazil on September 9, its first international stop. It will then travel to Fiji, Vanuatu and Tahiti in the South Pacific with an arrival in Costa Rica on September 24. It will be the largest and longest global tour of the FIFA World Cup trophy. Visiting more countries than ever during its nine-month journey, the FIFA World Cup trophy tour by Coca-Cola will be the first ever pan-Latin America tour, with events in 39 countries across the region that is home to the host nation, Brazil.
Around the Web