From the humble beginnings of Corriverton to the top of the power lifting world stands the 5-foot, 3-inch, 115-pound gladiator, Gumendra Shewdas.
Guyana's youngest ever world champion may not look imposing but his feats are monumental and historic.
The 18-year-old Line Path resident placed his name in the annals of Guyana's history last Monday after he squatted, bench pressed and dead lifted his way to the top of the podium in the 53kg class at the World Sub Juniors and Juniors Men's Championships in Killeen, Texas to become Guyana's youngest ever world champion for any discipline.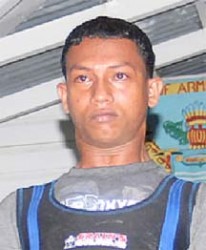 Guyana's 'Golden Boy' total lift of 475kg (1045lbs) trumped those of the powerhouses of power lifting – USA's Dalton La Coe (452.5kg) and Russia's Alexei Kulakov (437.5kg) relegating them to the silver and bronze.
So who is this son of the soil who defeated the American, the Russian and all others?
Stabroek Sport sat down with the nation's latest hero yesterday to get a little insight into the teen in the power-lifting suit.
"I am just like any normal 18-year-old, there is nothing special that I eat or do. I guess I was just born with God-given strength, it feels great to be world champion. I'm really excited but it has not quite sunk in as yet," said Shewdas yesterday.
"I started going to the gym when I was 14 and my coach told me one day that I can enter the sport of power lifting and do good things… Ever since I started power lifting four years ago I have been steadily improving and winning. It was a lot of hard work but it all paid off," added the Commonwealth and Pan American gold medallist.
So what does the diet of a champion power lifter consist of?
"Normal food like what a Guyanese eats but two weeks prior to competition I abstain from fatty foods and dairy products. My diet would consist of a lot of boiled vegetables and steam fish and chicken," Shewdas said.
What is the Skeldon High School graduate and machinist at GuySuCo looking forward to?

"I'm looking forward to bigger and better things," Shewdas said. "Since this is my last year as a sub junior, I'm looking ahead to graduate to the world junior ranks."
When quizzed on what he would like as a reward, Shewdas replied: "I think I deserve something because I'm the first ever 18 and under world champion for any discipline in Guyana. I think they [the government] should do something for that."
The front-runner for Junior Sportsman of the Year also told Stabroek Sport that since power lifting is not an Olympic sport, the possibility exists that he would take his talents to the sister sport of weightlifting before the 2016 Games in neighbouring Brazil to perhaps achieve that gold medal that has long eluded Guyana.
With regard to his success, the strong man thanked his support system which consists of his family and fellow residents of Corriverton for helping him become a household name and inking his name in the record books.
Shewdas and members of the Guyana Amateur Powerlifting Federation (GAPF) are scheduled to have a welcome reception with President Donald Ramotar at his office tomorrow.
Around the Web