BERLIN, Germany, CMC- Jamaican sprinter Kemar Bailey-Cole captured the men's 100 metres at the ISTAF Athletics Meeting here in Berlin, Germany on Sunday.
Bailey-Cole, the World Championships sprint relay gold medallist, clocked 10.04 seconds to beat veteran St. Kitts and Nevis sprinter, Kim Collins, 10.15 and Norway's Jasuma Saidy Ndure, 10.17.
In the women's 100 metres, veteran Jamaican sprinter, Aleen Bailey, was sixth in 11.60.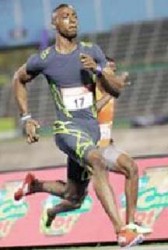 American LaKeisha Lawson won the event in 11.18, ahead of Germany's Verena Sailer, 11.32 and Ashleigh Nelson of Great Britain, 11.45.
Jamaica's Kerron Stewart took third spot in the women's 200 metres clocking 23.03 seconds.
American Tiffany Townsend won the event in 22.77 second while another American, ChaRonda Williams, was second in 22.82, while Bailey was seventh in 23.56.
Around the Web