NEW YORK, (Reuters) – Top seed Novak Djokovic demolished unseeded Spaniard Marcel Granollers 6-3 6-0 6-0 yesterday to charge into the quarter-finals of the U.S. Open.
Djokovic, the 2011 U.S. Open champion and runner-up last year, won the last 13 games to finish off the fourth-round match in 79 minutes. The 26-year-old Serb was dominant in every phase and excelled particularly from the service line, winning the first 25 points of the match on his serve.
"I played one of the better matches I've ever played here in my life," the world number one, who has yet to lose a set in the tournament, said on court. "I had everything working, every part of my game and that's a great encouragement."
Djokovic advanced to a quarter-finals clash against Russia's Mikhail Youzhny, a 6-3 3-6 6-7(3) 6-4 7-5 winner against Australian Lleyton Hewitt.
"Today, the second and third set have been some of the best tennis that I've played on Arthur Ashe in my career," said Djokovic, who has flashed some wondrous form on the centre court over the years.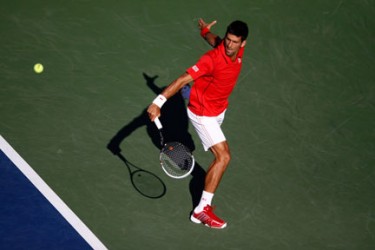 "I was wishing to be more aggressive as the tournament progresses and to be able to stay committed to play every point, to win every point, regardless of what's the score."
Djokovic was sublime from the service line, winning the first 25 points on his serve despite notching only two aces in the whirlwind victory. The world number one cracked 34 winners, dividing them almost evenly between both wings and won a remarkable 28 of 30 points he contested at the net.
Djokovic said he has been spending a lot of time on varying his attack and improving his net play.
"I know I can defend well and I have a good transition, but also it's obvious that my game is based on a baseline," he said. "I have many opportunities during the match to come to the net and finish out the point earlier. "That's one of the things on the practice agenda that we have with our team. We are working on the serve, getting more precise, efficient, and using the opportunities to just make a winner and come to the net.
The new-look Djokovic, rushing to the net to finish off quick points, could prove to be an undeniable force as he takes aim on a second U.S. Open title.
"It's a great joy. It's a fantastic feeling when you're playing this well," said Australian Open champion Djokovic. "You love spending time on the court and experiencing such great zone where you are at that moment."
Around the Web