NEW YORK, (Reuters) – Defending champion Serena Williams walloped Spain's Carla Suarez Navarro 6-0 6-0 to race into the semi-finals of the U.S. Open yesterday.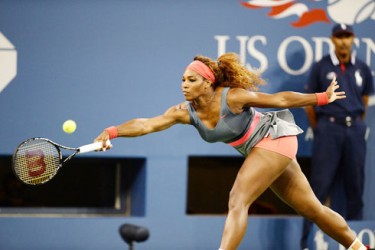 Top seed Williams served up the dreaded "double-bagel" in a blazing 52 minutes to set up a clash with fifth seed Li Na, who earlier became China's first U.S. Open semi-finalist by beating Russian Ekaterina Makarova.
"Honstly she's a great player," said Williams, blaming the windy conditions for the Spaniard's futility. "The conditions today were so tough. It was not her best tennis today."
Suarez Navarro's consolation is a $325,000 check on her 25th birthday for her first U.S. Open quarter-final.
Around the Web