Trinity Grid Holdings (TGH) Pacesetters Basketball Club in collaboration with Ansa McAl through its Mackeson brand officially launched its 12 team inter-ward competition at the entity's Beterverwagting boardroom yesterday.
Mackeson brand manager Jamaal Douglas during a brief feature address stated "Mackeson is delighted to be a part of the tournament and is happy that the tournament will be bringing out the communities. We are looking for a very successful event and are happy to be on board."
Chairman of TGH Pacesetters Dennis Clark stated:"The reason the club is hosting this tournament is to raise the necessary funds to take the club to Suriname to play against its sister club the Yellowbirds."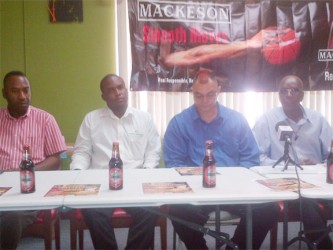 Frank Parris, Director of the Eyefull Entertainment who will be in charge of security at the venue said "We will beefing up security in the parking lot and around the entire venue so that patrons can feel secure and enjoy an entertaining and joyful night of basketball."
Scheduled to be contested over 11 playing dates, the competition which was last held in 2010 will be hosted every Saturday, Sunday and Wednesday on the 8th, 11th, 14th, 15th, 18th, 21st, 22nd, 25th, 28th and 29th respectively at the Cliff Anderson Sports Hall on Mandela Avenue.
The competing wards are defending champion Albouystown/ Charlestown,  Wortmanville/ Werk-en-Rust, North/South Ruimveldt, Mc Doom/ Diamond, Alberttown/ Bourda, Kitty/ Campbellville, Plaisance/ Vryheid Lust, Melanie, Buxton, Lodge/ Meadowbrook, East/West Ruimveldt and Tucville/Guyhoc.
Four groups of four will divide the 12 team tourney. The top finishers from each group will advance to the quarterfinal round. Each ward will be allowed two guess players from Linden, Berbice or any foreign player.
Two games will be played every competitive night with jump ball scheduled  for 20:00hrs. The final will be played in the best-of-three format.
Trophies and prize money will be up for grabs for the respective finishers. The victorious side will receive $200,000, a trophy and replicas while the runners-up will collect $125,000, a trophy and replicas.
Third and fourth place finishers will pocket $75,000 and a trophy and $50,000 and a trophy respectively.
On the individual side, awards will be presented for the Most Valuable Player (MVP), best three pointer shooter (Eon Leech award), best free throw shooter (Stanislaus Hadmond award), most assists (Mark Agard award), most blocks (Dave Trotman award) and most rebounds (Eon Andrews award).
General admission per night will be $500 while children under 12 will be free. Other sponsors of the event include Lens Craft Optical, Noble House Seafood's, Star Party Rentals and Precise Printing.
Around the Web