NEW YORK, (Reuters) – Flavia Pennetta reached her first grand slam semi-finals and Richard Gasquet booked a long awaited return to the last four of a major in a pair of upsets at the U.S. Open on Wednesday.
Pennetta, 31, was the last Italian standing in a U.S. Open women's draw that has been dominated by the old guard after upsetting 10th-seeded compatriot Roberta Vinci 6-4 6-1.
Eight-seeded Frenchman Gasquet advanced to the semi-finals stage for the first time since the 2007 Wimbledon championships, when he ousted Spanish fourth seed David Ferrer 6-3 6-1 4-6 2-6 6-3 in a thrilling encounter.
It was the second successive five-set victory for the 27-year-old Gasquet, who won 7-5 in the final set of a marathon fourth-round match against big-serving Canadian Milos Raonic.
Gasquet, who had lost eight of nine previous matches against Ferrer, will meet the winner of the all-Spaniard match between second seed Rafa Nadal and Tommy Robredo that was closing last night programme at Arthur Ashe.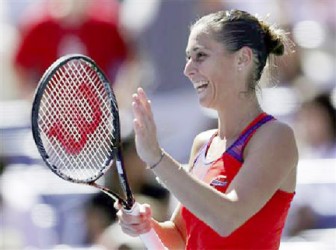 For Pennetta, who overcame surgery on her right wrist that kept her out of last year's tournament, the victory put her in the last four against second seed Victoria Azarenka or 30-year-old Daniela Hantuchova, who were set to play last night.
A U.S. Open record five 30-somethings had reached the last 16, including 30-year-old Vinci, and Pennetta's victory made it at least a trio into the semi-finals.
The semi-final for the other half of the draw is set with top-seeded defending champion Serena Williams going against fellow 31-year-old Li Na of China.
"I think we just keep playing. Before the career of the woman was shorter, they retired early," Pennetta said about the rise of the 30-somethings at Flushing Meadows.
"It's good to stay physical, in a good way, and play this good tennis at this age. I'm proud of me now."
NERVOUS WIND
Playing in just the second grand slam quarter-final of his career, 27-year-old Gasquet used his trademark one-handed backhand to near perfection as he closed out Ferrer in three hours and 23 minutes.
"I thought he was a little bit nervous in the wind, so I played on that," said Gasquet. "I was a little bit tired but the last game was amazing for me. It's wonderful for me to be in the semis. It means a lot."
Gasquet broke the Spaniard, a model of consistency with trips to the quarters or better in the last eight slams, when he double faulted on break point to seize a 4-2 lead in the fifth set and ended it with a bristling forehand for his 52nd winner.
"He had a bad game at 3-2 for me. I was a little nervous about getting into the semis at the U.S. Open, but I did it. Was a big win for me," he said.
The good-natured match between the Italian friends and Fed Cup team mates who have competed against one another since they were 10 turned into a rout by the second set, which Pennetta raced through in 24 minutes against an error-prone Vinci.
"It was of course a special day for us," said Vinci, who is part of the world number one ranked women's doubles team with fellow Italian Sara Errani, and still busy defending their U.S. Open double title.
"Is a great chance to go to the semi-final. This time she won, but I think that I'm happy, too, about this tournament."
STRONG HISTORY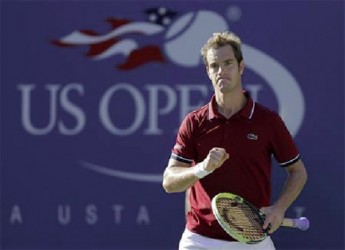 Pennetta, ranked 83rd as she works her way back up the rankings, continued a strong history of success at Flushing Meadows.
After advancing the quarters in 2008, 2009 and 2011, Pennetta has not dropped a set in her march to the semi-finals, dropping just 25 games in her five victories.
"I don't know. I just enjoy to play here," she said.
Pennetta induced 28 unforced errors from Vinci, who kept pressing the action without great success, winning just 18 of 34 points she contested at the net.
Their quarter of their draw was something of a festival for the Italians.
In playing Pennetta, Vinci was facing her third successive compatriot, having beaten unseeded Camila Giorgi and Karin Knapp in previous rounds.
Pennetta eliminated fourth seed Errani in the second round.
This marked the sixth year Italy has had a player in the quarter-finals, and second year in a row that two Italians had reached the quarters.
Around the Web