The Indian Arrival Committee (IAC), will host a reception and gift ceremony for the nation's youngest ever world champion, Gumendra Shewdas, tomorrow at the Taj Mahal Complex in No. 79 Village, Corriverton.
Tomorrow's event which commences at 17:00hrs is to honour the world champion power lifter who created history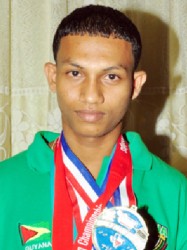 last week at the World Sub Juniors and Juniors Men's Championships in Killeen, Texas.
The 18-year-old Line Path resident placed his name in the annals of Guyana's history last Monday after he squatted, bench pressed and deadlifted his way to the top of the podium in the 53kg class at the championships to become Guyana's youngest ever world champion for any discipline.
Guyana's 'Golden Boy' total lift of 475kg (1045lbs) trumped those of the powerhouses of powerlifting – USA's Dalton La Coe (452.5kg) and Russia's Alexei Kulakov (437.5kg) relegating them to the silver and bronze.
According to a member of the IAC, the ceremony will positively impact Shewdas' future.
When quizzed on what he would like as a reward from the government recently Shewdas replied:
"I think I deserve something because I'm the first ever 18 and under world champion for any discipline in Guyana, I think they (the government) should do something for that".
To date, Shewdas has been rewarded with handshakes, congratulatory speeches and a lunch by the Ministry of Sport.
Around the Web