Skipper Steven Jacobs's classy half-century led his side to a 4-wicket win over Leon Johnson's XI yesterday when the first trial match ahead of the El Dorado senior's tourney concluded at the Bourda Cricket Ground.
The match was the first of the two that will be used as a measuring stick for selectors to identify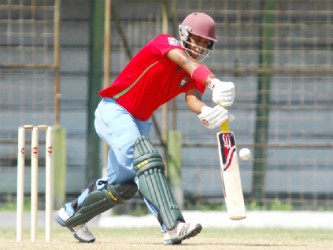 the best players to represent Demerara in the upcoming El Dorado Senior 50 overs-a-side tournament scheduled for September 21.
In a match reduced to 32 overs-per-side due to rain, the Johnson-led XI won the toss and elected to bat, managing 130 for 9 at the end of their allotted overs. Openers Tagenarine Chanderpaul (10) and Shemroy Barrington (38) started off cautiously just managing 12 runs in 5.3 overs, before showers came down at 10.26 am and halted proceedings for 57 minutes.
On resumption, Chanderpaul flicked fast bowler Kellon Carmichael for a boundary off the first ball, but was then given out LBW a ball later. Jetendra Sukhdeo (14) and Barrington revived the innings and put on 36 for the second wicket. Sukhdeo was then caught by Zaheer Mohamed off the bowling of Carl Rambarose in the 16th over, which was also the same over the team brought up their half-century mark.
After blocking and nudging in his patient innings, Barrington was eventually caught and bowled by Mohamed, leaving the score at 79 for 3 in the 21st over. Vishal Singh (10) fell when he skied a delivery straight up into the air and down the throat of wicket-keeper Kemol Savory.
Johnson failed to trouble the scorers as he was bowled for a duck off the first ball by Amir Khan, who a few overs later trapped Vincent Forrester LBW for 19.
The team brought up their 100-run mark in the 27th over but Chadwade McPherson (6) was then bowled by opposition skipper Jacobs, while Joseph Perry (2) and Randy Knights (8) were both run out in close succession and Joshua Wayde (6) was left stranded not-out.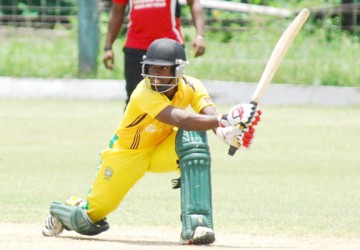 Mohamed sent down five overs and took 2 for 22 and Khan delivered six overs and grabbed 2 for 32. Carmichael, Rambarose and Jacobs each picked up a wicket.
Chasing a decent target for victory, the Jacobs XI finished on 131 for 6 from 31 overs. The openers Andrew Lyght Jr and Robin Bacchus started off proceedings. Bacchus (4) was the first to go in the second over, caught by Pernell London off the bowling of Wayde.
Lyght (6) fell in 7th over as he flashed at a delivery that was remarkably held by Johnson at first slip. Jacobs then came to the crease to partner Jamal Hinckson. The two added 46 for the 3rd wicket and provided a good platform with some lusty blows from the skipper.
They brought up the team's half-century mark in the 11th over. After a gritty knock of 21, Hinckson was caught by Barrington at cover off the bowling of spinner Collis Butts.
Jacobs continued his responsible knock with new man Arvin Seepersaud, who started off nervously but soon opened up with a few boundaries. The team's hundred came up in 22.5 overs, as Jacobs's XI looked well on their way to a victory, but not before losing a cluster of wickets at the back end of the innings.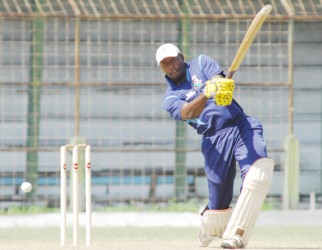 The young Seepersaud (17) was stumped by wicket-keeper Perry, as Johnson picked up his first. Jacobs (55) was unable to see his team home after being caught by London off the bowling of Johnson who two overs before was taken for a few runs and a huge six over mid-wicket.
Johnson then removed Deonarine Seegobin for 1. Requiring 11 from the last three overs, wicket-keeper Savory (6) and Mohamed (7) both not-out, saw the game home with an over to spare. Johnson was the pick of the bowlers claiming 3 for 30, while Wayde and Butts claimed one wicket apiece.
The action continues today when Jacobs's team will oppose Christopher Barnwell's XI in the second trial match at 9.30am.  The Guyana Cricket Board will also launch the Pepsi 50-Over Inter-County tournament today at the GCC Club at 2pm.
Around the Web