Christopher Barnwell's XI yesterday defeated Stephen Jacobs's XI by 49 runs in a high-scoring, final Demerara Cricket Board (DCB) trial match to select the Inter County one day team for the upcoming DDL-sponsored tournament.
Batting first at the Georgetown Cricket Club ground, Bourda, Barnwell's XI racked up an imposing 320-9 off their allotted 50 overs and then restricted Jacobs' XI to 271-5 off their allotted overs.
Barnwell and Trevon Griffith scored punishing half centuries while Andrew Lyght Jr., slammed 40.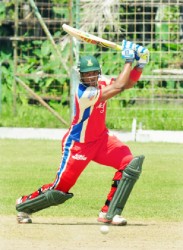 Openers Lyght Jr. and Griffith were involved in a whirlwind opening stand of 110; the first 50 coming in only 9.5 overs.
Fast bowler Andre Stoll was taken for 14 in one over where Griffith took a liking to him smashing him back over his head for six, followed by second maximum which sailed over the mid-wicket area, out of the Bourda ground over.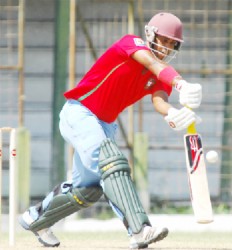 The naturally aggressive Lyght Jr. was overshadowed by Griffith who brought up his belligerent half-century off 48 balls in the 13th over with three fours and three sixes. Lyght Jr., was the first to go after he was caught by Damian Vantull off the bowling of Jacobs.
After looking well set on his way to a century, Griffith departed in soft fashion, popping a return catch to bowler Yatesh Dhanpaul. He struck five fours and three maximums. Kamesh Yadram (9) was stumped by some good work behind the sticks by Kemol Savory, as the 150 came in the 27th over.
The pair of Brian Sattaur and Winston Forrester looked to provide a good finish to the innings.
However, Winston Forrester (03) was caught by Shaquille Williams, as Dhanpaul claimed his second, followed by the dismissal of Brian Sattaur (20), who was then bowled by Dhanpaul.
After the dismissal of the top three batsmen, 96 balls were bowled without a boundary being scored.
Discarded national wicket-keeper, Derwin Christian (9) was caught by Kellon Carmichael off the bowling of Dennis Legay while Balbinder Shivpersaud (19) was run out by Legay.
Barnwell then walked to the crease with 10 overs remaining and eventually brought up the team's 200 in the 41st over with a single. Kwame Crosse (8) got a thin edge that went through to Savory while Dexter Solomon (2) was eventually trapped LBW by Legay.
Carlos LaRose (10) was run out by Rajendra Chandrika. Meanwhile, Barnwell brought up his 50 from a mere 20 balls and after a few more huge smacks he departed for 72 with two fours and seven huge sixes.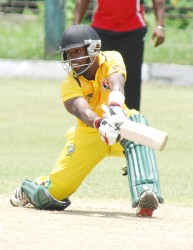 The 300 came up in the 47th over, as the Under-19 pair of Steven Sankar (4) and Dexter George (13) wrapped up an imposing innings. Dhanpaul was the best of the lot with the ball picking up 4 for 30 off seven overs, while Carmichael grabbed one wicket.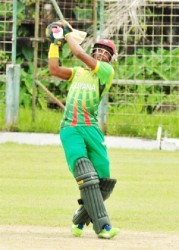 Chasing a mammoth 321 for a win, Jacobs XI opening pair of Shemroy Barrington (88) and Robin Bacchus (85) looked aggressive from the start, rocketing to a goliath 175 stand for the first wicket.
Bacchus's 50 came from 41 deliveries, while Barrington's half-century required 54 balls. The two brought up their opening stand of 150 in the 21st over. Bacchus was the first to go after he was caught and bowled by Griffith, who in similar fashion removed Barrington.
Chandrika after batting with a bit of composure retired on 14 with an injured finger. Jamal Hinckson (06) was bowled by spinner Steven Sankar; while Vishal Singh (7) was caught Griffith bowled Shivram Persaud.
Shaquille Williams (26) was caught Persaud bowled Sankar, as the innings came to an end with pair of Tagenarine Chanderpaul (8) and Yatesh Dhanpaul (3), being stranded left not out, as the Jacobs XI fell short by 49 runs.
Bowling for Barnwell's XI, Griffith bowled 10 overs 2 for 39 and Dexter George nine overs 2 for 57, being the standout bowlers.
All eyes are now set on the Senior International tournament which commences on September 21 and will be contested between the three counties Demerara, Essequibo and Berbice.
Around the Web