BRUSSELS, (Reuters) – World and Olympic champion Usain Bolt powered away late in the race to destroy his rivals and win the 100 metres in 9.8 seconds at the season-closing Diamond League meeting in Brussels yesterday.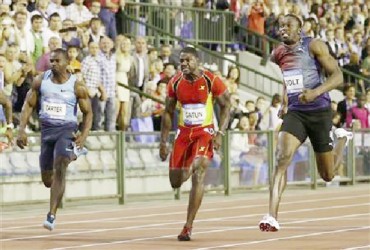 Bolt, who won 100, 200 and 4×100 relay golds at last month's world championships, was one of several Moscow medallists in action.
After a poor start, Bolt's acceleration over the second half of the race was again the difference in a 100 metres featuring six of the finalists from Moscow.
Bolt, performing fewer of his customary pre-race theatrics than at previous meetings, said despite the win, he was not satisfied with his start.
"My reaction time was very poor, I think it was my slowest one for the season," the 27-year-old told reporters.
"I'm just really bad at starting. I think if you watch most of my races you see I'm coming from behind to get back into the race.
"There's no time to slow down. As soon as I pass my competitors, there's the line," he added.
American Michael Rodgers was second in his season's best of 9.90 and Jamaica's world bronze medallist Nesta Carter was third. Justin Gatlin, second to Bolt in Moscow, finished fourth.
Bolt's compatriot Shelly-Ann Fraser-Pryce has been the dominant women's sprinter this year and the world and Olympic champion set a meeting record of 10.72 as clear winner of her 100 event.
"I don't think about times, I just focus on execution. I know once I've executed what I can do, I know that I'll set a good time," Fraser-Pryce told reporters.
Jamaican Warren Weir, silver medallist to Bolt in the 200 in Moscow, edged compatriot Nickel Ashmeade over the longer sprint for victory in 19.87 seconds.
It was an evening of top competition in the Belgian capital and the King Badouin Stadium was a sell-out for the event, an impressive feat given many local sports fans would have been watching the national soccer team's World Cup qualifier against Scotland.
Trinidad and Tobago's Jehue Gordon, surprise winner of the 400 metres hurdles world title, took victory in 48.32 seconds and Kenya's Milcah Chemos set a meeting record of 9:15.06 in the women's 3,000 steeplechase.
A host of other world champions also enjoyed victories, including Ethiopia's Mohammed Aman in the 800 metres, Russian Svetlana Shkolina in the high jump and Croatia's Sandra Perkovic in the discus.
Sweden's Ethiopian-born world gold medallist Abeba Aregawi took the women's 1,500 metres (4:05.41), in a race marred by a nasty pile-up involving six athletes at the bell.
Briton Christine Ohuruogu was one of the few world champions not to end the Diamond League season with a win, slipping to fifth in a tough 400 metres that featured all of the Moscow finalists. American Natasha Hastings, fifth at the worlds, took the honours this time out in 50.36.
"Even if I hoped for a better performance, I'm very happy," Ohuruogu said. "I've reached my top in Moscow and I'm now running the 150 metres in Gateshead (on Sept. 14)."
Kenyan Nelly Jepkosgei clocked a world leading time of 2:35.43 in the rarely run 1,000 metres, in the same stadium Russian Svetlana Masterkova set the world record of 2:28.98 in 1996.
Around the Web