Brand Manager of the Demerara Distilleries Limited (DDL)/Pepsi brand, Larry Wills said yesterday that the company was  pleased to collaborate with the Guyana Cricket Board (GCB) to launch the 2013 the Inter-County 50-over round robin competition.
The tournament which commences on September 21 will involve  participation from the three respective counties, Essequibo, Demerara and Berbice.
At the simple launching held at the Guyana Cricket Club (GCC) venue, GCB President, Drubahadur lauded the importance of the tournament in a bid to signify the importance of Guyana's preparation for next year's regional tournament which begins in January, stating that this tournament should not be underestimated.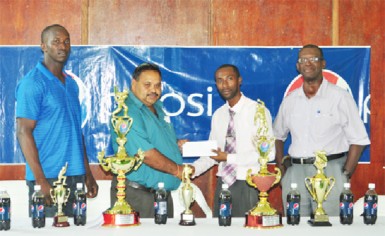 Drubahadur said he was happy with the commitment given by Demerara Distilleries Limited (DDL), who continues to provide sponsorship in the capacity of cricket while Wills stated that DDL was once again pleased to partner with the GCB in hosting this year's tournament.
"While this tournament is new to Pepsi, it is not new to DDL, since we have been proud sponsors of this tournament for over 15 years. It is our pledge to continuously support the development of sports in Guyana and cricket in particular," Wills said.
Wills further disclosed that both Pepsi and DDL have strong ties to cricket around the world and noted that Pepsi continues to sponsor several grassroots programme which are intended to develop cricket at the local level.
"We recognize that investment at the developmental stage is critical if we are to continue to perform on the big stage. It is for this reason that this particular tournament is important to us," Wills said.
Fixtures for the tournament see Essequibo and Demerara battling first on September 21, while   Round two is scheduled for Tuesday September 24, between Demerara and Berbice and final preliminary round on Thursday September 26, witnesses Berbice coming up against Essequibo.
The two top teams will clash in the final on September 29. All the matches are scheduled to start at 09:00h.
Admissions for the preliminary rounds are free while an entrance fee is yet to confirm for the final.
Around the Web