MANCHESTER, England, (Reuters) – Captain Michael Clarke blasted a magnificent 105 as Australia outplayed England in all departments to beat the hosts by 88 runs in the second one-day international at Old Trafford yesterday and go 1-0 up in the series.
Australia had set a challenging target of 316, driven by Clarke's 155-run partnership with George Bailey (82) against below-par bowling from England, who also struggled to get going with the bat and were bowled out for 227.
"All the boys deserve a lot of credit, the way we played. I think to make over 300 on that wicket was a pretty good score," Clarke said during his man-of-the-match presentation.
"(It was a) pretty good wicket batting first and our bowlers executed really well … We are off to a great start which is really pleasing."
England, who won the test series 3-0 last month, lost the last two post-Ashes one-day series in 2009 and 2010-11 and a battling 75 from Jos Buttler was the main positive to reflect on as they seek to avoid a repeat with three matches remaining.
"It's very disappointing but I think we can learn a lot from today," England captain Eoin Morgan said. "We struggled to cope with conditions and adjusting to conditions early with both bat and ball."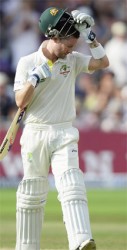 The hosts, who rested some of their top Ashes performers, won the toss and chose to bowl on a sunny early morning start after the first one-dayer at Headingley was rained off but did not put up much of a fight as Australia piled on the runs following a bad start.
Opener Shaun Marsh fell for a duck to the fourth delivery of the day and Shane Watson almost went first ball before surviving after a review on an lbw decision.
Watson was not so lucky second time round when England called a review of their own and he was given out for 38.
The Hotspot technology did not show any contact between the bat and Ravi Bopara's delivery, caught by Buttler, but the loud thud that accompanied Watson's swipe was enough to change the umpire's original call.
Opener Aaron Finch made 45 off 45 balls before Joe Root caught him at long on.
Bailey's fine innings, which included five fours and four sixes, ended when he was caught by James Tredwell off Bopara as the skies above Old Trafford darkened.
"He played really well," Clarke said of Bailey. "George has been hitting the ball really well for a long time now, especially in this form of the game."
Clarke found the gaps with ease as he stroked 14 boundaries while notching up 105, his eighth one-day century, from just 102 balls.
England's bowlers finally made an impression when Boyd Rankin took the wickets of Clarke and Matthew Wade (0) with successive deliveries.
James Faulkner was out for 18 in the final over as Australia posted an imposing total of 315 for seven wickets.
BLACK CLOUDS
The threat of rain at Old Trafford eased but the black clouds gathered for England as their reply began with the early dismissals of opener Michael Carberry (4) and Jonathan Trott (0) after some excellent bowling from fast bowler Mitchell Johnson.
They were then steadied by a 60 from the experienced Kevin Pietersen, selected despite recent knee problems, before he drove Watson's delivery to Faulkner to break up what had been a promising partnership with Morgan.
Shortly after Australia had claimed the prize wicket of Pietersen, Bopara was caught and bowled by Adam Voges for one to plunge England deeper into trouble on 103 for five.
Captain Morgan brought up his 18th one-day half century to give his side a glimmer of hope but it was snuffed out as he fell for 54 when he sliced Clint McKay to Clarke.
Two more wickets fell quickly with Ben Stokes (5) caught by Bailey off McKay and Tredwell (1) run out and while Buttler fought on to 75, his fifty sealed with a thumping six, he could not prevent the inevitable as the tail fell away following his dismissal.
McKay posted Australia's best bowling figures with 3-47 but it was Johnson, left out of the Ashes squad but perhaps now putting himself into contention for the return test series later this year, who caught the eye with the new ball.
"It's great to see him back bowling well, swinging the new ball as well which is a bonus for us. It's the start of a big series for Mitch," Clarke said.
The third one-day international is at Edgbaston on Wednesday.
Scoreboard
Australia Innings
S. Marsh c Buttler b Finn                                   0
A. Finch c Root b Tredwell                             45
S. Watson c Buttler b Bopara                        38
M. Clarke c Buttler b Rankin                      105
G. Bailey c Tredwell b Bopara                     82
A. Voges not out                                                16
M. Wade b Rankin                                              0
J. Faulkner c Morgan b Finn                         18
M. Johnson not out                                             6
Extras: (b-1, lb-1 w-2, nb-1)                             5
Total: (for seven wickets, 50 overs)     315
Fall of wickets: 1-0 2-60 3-116 4-271 5-283 6-283 7-308
Did not bat: C. McKay, F. Ahmed
Bowing: S. Finn 10-1-68-2 (1w), B. Rankin 10-0-49-2, B. Stokes 10-0-66-0, R. Bopara 10-0-57-2 (1nb, 1w), J. Tredwell 8-0-60-1, J. Root 2-0-13-0
England innings
K. Pietersen c Faulkner b Watson           60
M. Carberry c Clarke by Johnson             4
J. Trott c Wade by Johnson                        0
J. Root b Faulkner                                           3
E. Morgan c Clarke b McKay                   54
R. Bopara c & b Voges                                   1
J. Buttler c Johnson b Ahmed                 75
B. Stokes c Bailey b McKay                       5
J. Tredwell run out                                       1
S. Finn c Voges b McKay                         16
B. Rankin not out                                         1
Extras: (lb-1, w-6)                                        7
Total: (all out; 44.2 overs)                    227
Fall of wickets: 1-8 2-9 3-38 4-97 5-103 6-154 7-167 8-169 9-216 10-227
Bowling: C. McKay 9.2-1-47-3, M.
Johnson 10-2-36-2 (3w), J. Faulkner 8-1-39-1, A. Voges 6-0-32-1 (3w), F. Ahmed 7-0-55-1, S. Watson 4-1-17-1
England won the toss and chose to bowl.
Result: Australia won by 88 runs.
Australia lead the five-match series 1-0.
Around the Web