Defending champions Albouystown/Charlestown scrapped their way to a 51-45 victory over Lodge/ Meadow-brook as the Trinity Grid Holdings (TGH) Pacesetters Basketball Club Mackeson inter-ward tourney began on Saturday.
Contested at the Cliff Anderson Sports Hall on Mandela Avenue, Sheldon Thomas led the winners with 22 points, two steals and as many rebounds while Dale Causway registered 11 points, five steals and nine rebounds.
Sheldon Frank netted nine points.
Mortimer Williams contributed 15 points and seven rebounds for the losers whilst Drunson McCulley netted 11 points and grabbed 14 boards and Ryan Wilson scored 10 points.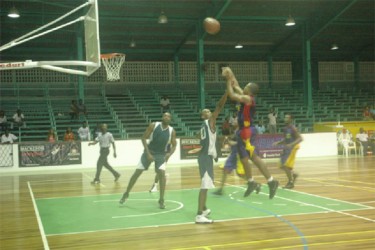 Playing  in front of small crowd, Lodge/Meadowbrook dominated the opening quarter as they continuously utilized their superior size and length to dominate the paint and score easy baskets through McCulley and Wilson.
Blocking the driving lanes on the defensive end, Lodge/Meadowbrook forced the defending champions to take low percentage perimeter shots as Thomas and Causway were consistently off target with the period ending 16-7.
Albouystown/ Charles-town would answer back as they opened the second quarter on a 10-0 run to take a early one point lead. Employing a high tempo offence, the defending champs continued to move the ball around the court to free up their shooters.
Thomas, who was a mere passenger in the first period, found his shooting range as he led the Albouystown/Charlestown offensive charge with  his side registering  20 points in the period.
His new found Midas touch would be clearly evident as he nailed a clutch three point dagger in the final seconds of the period to take his side in the half leading 27-20.
Held to a meagre four points in the second period, Lodge/Meadowbrook battled back in the third quarter , registering 17 points to pull within one point as McCulley and Stewart continuously attacked the rim to put Albouystown/Charlestown in foul trouble.
Their success in getting to the foul line would prove however to be a detriment as they missed a combined 13 free throws.
With a one point lead going into the final quarter at 38-37, Albouystown/ Charles-town showed grit and determination befitting of champions as they pressured and forced timely turnovers from the clearly fatigued Lodge/ Meadowbrook unit.
Their dominance in the period would be best exemplified by a huge Nicko Fraser block on Wilson.
Capitalising on these opportune mistakes, the defending champions would led by Causway would score easy fast break points baskets in the period as they sealed their opening win of the event.
In the opening game of the tournament, McDoom/ Diamond earned a walkover victory against  Kitty/ Campbellville.
Around the Web