Guyana's national junior team lost to Trinidad and Tobago by a 1-4 margin in the team events at the Caribbean Regional Badminton Confederation (CAREBACO) junior championships in San Juan, Puerto Rico yesterday.
According to a press release, the Guyana players performed to the best of their abilities losing some close matches to the Trinidadians.
"Although the team events in the juniors are in the U19 category, our young players still performed their best and lost to Trinidad 4-1 with some close matches," the release stated.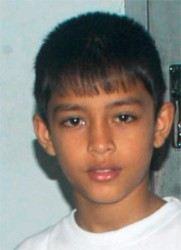 Narayan Ramdhani lost to Jason Ramjass of Trinidad 21-13, 22-24 and 15-21 while 11-year-old Priyanna Ramdhani was defeated by Jada Renales 14-21, 21-17 and 18-21.
Trinidad continued their winning ways with Naim Mohammed and Johan La Bastide winning the boys doubles 21-8, 21-14 from Guyana's Jonathan Mangra and Noel Shewjattan and Guyana also lost the girls doubles with Nadine Jairam and Meshonn Persaud defeated by Renales  and Brittney Mohammed 13-21, 14-21.
Guyana gained a consolation win in the mixed doubles through Narayan and Priyanna Ramdhani who defeated Jason Ramdjass and Tiffany Rampersaud 21-19, 21-5.
Guyana is in Group B along with the Dominican Republic, whom they play today, Trinidad and Tobago while Group A consists of Suriname, Puerto Rico and Barbados.
Around the Web