Guyana's youngest world champion Gumendra Shewdas was Saturday night honoured by the Indian Arrival Committee (IAC) with $500,000 and a plaque for his historic achievement at the World Sub Junior and Junior Championships last month.
Shewdas became world champion at the championships in Killeen, Texas, on August 26 where the five foot, three inches, 115-pound Line Path resident squatted(396lbs), bench pressed (198lbs) and dead lifted (452lbs) to relegate USA's Dalton La Coe and Russia's Alexei Kulakov to the silver and bronze medals respectively.
The 18-year old Shewdas was also presented with cheques from Keiolo Blackman, Manager of the Guyana Bank for Trade and Industry's Corriverton Branch and Manager of Taj Mahal's Complex, Peter Johnson.
At Saturday night's ceremony, the 53Kg Pan American gold medalist and Commonwealth record holder was lauded by executive members of the IAC, Minister of Agriculture, Leslie Ramsammy, Regional Chairman for Region Six, David Armogan, Patron of IAC and Minister of Natural Resources and the Environment, Robert Persaud, former regional chairman of Region Six and Secretary for the PPP/C, Zulfikar Mustapha and others.

Ramsammy congratulated the front runner for the Junior Sportsman of the Year award and opined: "Our best chance of not just having a medal but a gold medal at the Olympics will come in power lifting whenever it is installed as an Olympic sport."
He added:"The talents of power lifters can indeed put us further on the map. I hope that all of Guyana embraces him."
"Let's celebrate him," Ramsammy added.
Mustapha, who also congratulated Shewdas, declared:"Today is indeed a happy occasion for those in Guyana and Berbice."
He also encouraged other corporate entities to come onboard and support the growing sport of power lifting and the young world champion.
Persaud sang praises to the champion power lifter and declared that with hard work and dedication the sky is the limit for Shewdas.
When it was Shewdas' time to take the microphone, the soft spoken gladiator said….."Thanks to everyone. I could not have done it without the support of my family, my coach and members of the Total Fitness Gym. I hope I will continue to make Guyana proud."
At the closing, executive member of the IAC and last night's MC, Neaz Subhan disclosed that the Upper Berbice Chamber of Commerce will honour the nation's first junior world champion at their annual dinner on September 20.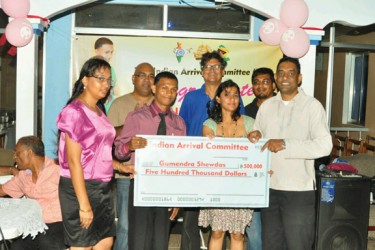 Around the Web