Camptown Football Club in collaboration with Ansa McAl through its Stag Beer Brand yesterday launched the inaugural Troy Cook Memorial tournament at the entity's Beterverwagting boardroom.
Founder of the Campbellville-based club Rudy Bishop, during the feature address, stated: "Camptown is a community team and a former hub of sporting activities. This tournament will give us the opportunity to resuscitate and recapture that glory.
"The aim is to move from strength to strength and try to expand the tournament every year. Good luck to the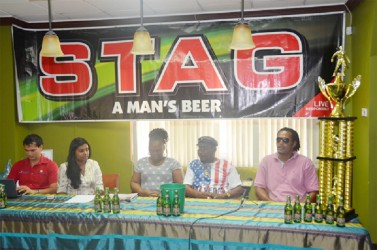 team who will win it the first time. Hopefully it will be Camptown," added Bishop.
Event Coordinator Richard Mittelholzer, during a brief comment said: "Thanks to the Stag brand for sponsoring the Memorial. We are trying to make this a lifetime tournament and have no plans to stop. With the service we are getting from Stag brand, it looks like it will be."
Stag Brand Representative John Maikoo said: "The Stag brand is pleased to be associated with football again. It's the first time doing a competition within the Georgetown Football Association (GFA) and we have the cream of the crop amongst the eight teams. Stag wants to promote fair play and let the best team win."
Public Relations Officer (PRO) Darshanie Yussuf stated that events such as this highlight Ansa McAl's commitment to sport on a national level. He noted that the company will not only continue help to develop sports but also the respective communities.
The tournament, which will be contested over four playing dates, will feature eight teams competing in a knockout format. The eight teams are Alpha United, BK Western Tigers, Camptown FC, Fruta Conquerors FC, Georgetown Football Club (GFC), Guyana Defence Force (GDF), Pele FC and Santos FC.
Riddim Squad is the alternate team in case any of the aforementioned sides are unable to participate.
The victorious side will receive $500,000 and a trophy while second and third place finishers will pocket $200,000 and $100,000 with trophy respectively.
The official random draw of the tournament was conducted at the opening launch. Fruta Conquerors will oppose GFC in the opening encounter at 18:00hrs on Friday 13th while Santos will battle Pele in the feature contest at 20:00hrs. The remaining fixtures will be Alpha United battling the GDF and tournament hosts Camptown locking horns with Western Tigers on Sunday 15th.
All fixtures will be contested at the Campbellville club's home venue. General admission to each fixture will be $500. Patrons who are attired in the colours of their respective teams when they are competing will be given a reduced entrance fee of $300.
Around the Web