National ladies champion Christine Sukhram warmed up for the upcoming Guyana Open golf tournament by winning the season resumption
Medal Play Club tournament last weekend at the Lusignan Golf Club.
The reigning Guyana Open ladies title holder shot a net 71 from a gross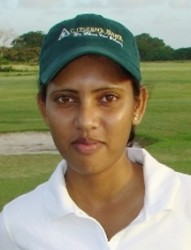 81 playing off a 10 handicap to secure the win from a field of 28 golfers in perfect conditions after the recent inclement weather had forced the suspension of the season.
Mohanlall "Santo" Dinnanath finished second on a count back. He also shot a net 71 from a gross 75 playing off a four handicap.
The ladies had their way as Joaan Deo captured the third position with 72 net from gross 93 playing off 21 handicap.
It was the perfect start for Sukhram as she prepares to defend her Guyana Open title in two months time.
Several major tournaments are lined up for the next two months including the prestigious Guyana Open which normally attracts players from the United States, Canada, Suriname and Trinidad and Tobago.
The Digicel Classic will be held a week prior to the Guyana Open and there will also be the Players Championship sponsored by Citizens Bank as well as other sponsored tournaments.
Meanwhile, members of the Lusignan Golf Club are expected to participate in the Annual RBTT sponsored Suriname Open in the neighbouring republic later this month.
Players interested in competing are asked to register with the club ahead of the staging of the tournament in the Dutch territory.
Around the Web