President of the Guyana Olympic Association K. Juman Yassin yesterday said that he was hopeful that the athletes who will be participating in the upcoming South American Juniors championships in Lima, Peru, would go on to represent Guyana at the 2016 Olympic Games in Rio de Janeiro, Brazil.
"We are hoping that this will be a start of the careers for some of our young athletes,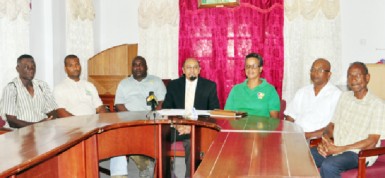 this may be the road to Rio for some of them if not this should be the road to Tokyo for some of them," said Yassin at a press conference held at Olympic House yesterday.
Guyana will be competing in seven disciplines at the inaugural South American Youth Games which commences on September 20.
Guyana will be competing in the disciplines of Athletics, Badminton, Boxing, Cycling, Swimming, Table-Tennis and Weightlifting.
The athletes who will represent Guyana at the Games include: Andrea Foster, Dequan Cumberbatch, Tirana Mitchell, Jason Yaw (Athletics),  Ambika Ramraj, Narayan Ramdhani (Badminton), Tefon Green, Joel Williamson, Michael April, Travis Fraser (Boxing), Stephano Husbands, Akeem Arthur, Shaquel Agard, Alonzo Ambrose and Crystal Lambert (Cycling).
Omar Adams, Hannibal Gaskin, Onika George (Swimming), Chelsea Edghill, Shemar Britton (Table-Tennis), Shariah Melville, Denoila Bristol and Darren Williams (Weightlifting).
Yaw (200m and 400m); Mitchell (100m and 200m) and Cumberbatch (100m and 200m) will compete in the sprint events while Foster (1500m and 3000m) will run in the middle and long distance races.
Green (49kg), April (52kg), Williamson (56kg) Fraser (69kg) as well as Bristol (53kg), Melville (+63kg) and Williams (77kg) will battle in their respective categories.
According to Juman-Yassin, the GOA will outfit each of the 30-member -contingent which include officials and will also cover the total cost of airfare and accommodation for them to the tune of $5M.
Juman-Yassin also disclosed that William Howard (cycling), Julian Edmonds (athletics), Linden Johnson (table-tennis), Wincel Thomas (boxing), Sean Cozier (weightlifting), Sean Baskh (swimming) and Gokarn Ramdhani (badminton) will be the manager/ coach of the respective disciplines.
Chef de Mission of the team, Dr. Karen Pilgrim revealed that the Opening Ceremony will be held on September 20 and will be followed by athletics (September 20-26) boxing (21-25), cycling (21-26), swimming (21-26), badminton (24-28), table-tennis (27-28) and weightlifting (27-29).
Pilgrim also told the media that the contingent of athletes and officials are looking forward to the Games.
"We are all looking forward to this," said Dr. Pilgrim.
"As Mr. Juman-Yassin mentioned, this is the first edition of the games so it is an unknown entity but what we do know we will be up against many of the top athletes in the region, we are looking forward to the challenge to see where we fare against the competition.
"There is the cultural and educational aspect of the games which the organizers are stressing which will improve the lives and frame of mind of the athletes so we are looking forward to it," she added.
The team of officials and athletes will wing out on September 17 and return on September 30.
Around the Web